3 Cheese Mexican Frittata with Salsa Fresca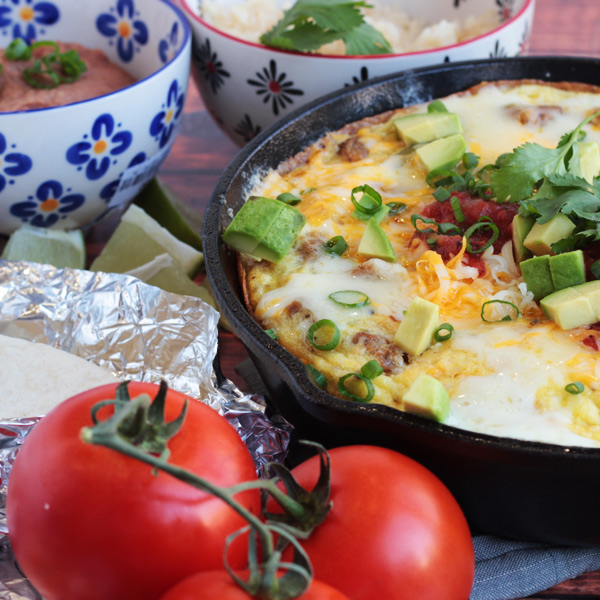 Recipe At A Glance
12 ingredients
15-30 minutes
8+ Servings
Our new Cool Food Panelist, Billy Parisi, is celebrating National March Frozen Food Month with a spicy take on breakfast, try his 3 Cheese Mexican Frittata Salsa Fresca for your brunch recipe!
Featured Product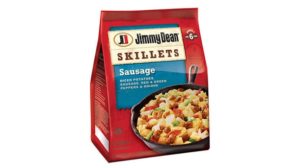 Jimmy Dean Sausage Skillets
Recipe Ingredients
1 Tbsp. of unsalted butter
2 cups of Jimmy Dean® Sausage Skillet blend
5 eggs
1/2 cup of heavy cream
1 cup of shredded cheese (Colby, Monterey Jack, Pepper Jack)
16-oz. can of fire roasted tomatoes
1/2 small diced sweet onion
1 small diced jalapeno
1 clove of garlic
1 Tbsp. of chopped cilantro
Avocado, tortillas, refried beans and cooked rice for garnish
Kosher salt and fresh cracked pepper to taste
Recipe Directions
In a large bowl whisk together eggs, cream, salt and pepper and set aside.
In a blender, blend togehter tomatoes, onions, garlic, jalapenos and cilantro until smooth. Season with salt and pepper and set aside.
In a cast iron skillet on high heat with butter, saute Jimmy Dean® Sausage Skillet blend for 3 to 4 minutes.
Next, add in the egg mixture and using a rubber spatula move the eggs and sausage blend back and forth for 2 to 3 minutes and then place the iron skillet in the oven and cook on 375F for 5 to 7 minutes or until the eggs are cooked.
When the eggs are done in the oven, garnish with cheese and salsa fresca.
Serve alongside avocados, tortillas, rice and beans.
Other Recipes You Might Like