Tips for Planning a Perfectly Healthy Summer Picnic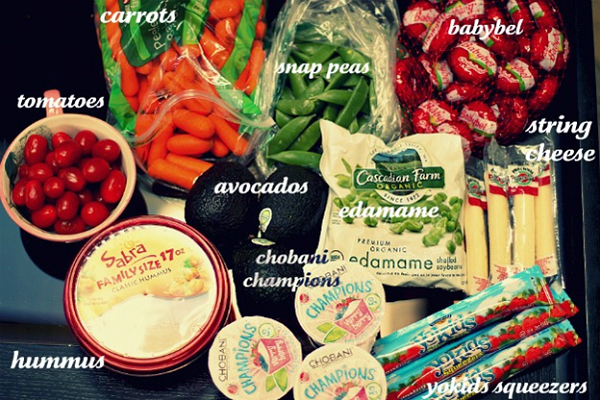 As a mom of two daughters, and I also happen to be a registered dietitian, I'm always looking for fun and unique ways to entertain my family with food that is healthy and delicious. I think summer is the best time to get kids excited about cooking, because—who doesn't love packing up their meal and enjoying it outside in the sunny, warm weather? Since the peak of summer is in full swing and the kids are out of school, it's time to take advantage of outdoor activities. Going on a picnic—whether it be in your backyard, park or playground—can be a fun way to spend some quality family time!
Here are my tips on packing a simple, healthy picnic basket this summer:
Yogurt squishers such as those from Stonyfield Organic are great for picnics. I like to store mine in the freezer, so when I pack them for the picnic they not only help keep the food cold, but thaw to just the right temperature when it's time to eat. Plus, my kids feel like they are eating a popsicle.
Veggie burgers are a delicious picnic food idea. If you must use ground beef, look for a lean mix with 7 percent fat or less, which will help bring down the calorie count. Both types of patties can be found in your local grocers' freezer aisle.
Take along a nutritious dip such as hummus, salsa, fat-free bean dip or low-fat yogurt with herbs and spices. Stuffed celery with peanut butter and baked tortilla chips and salsa are favorites for both kids and adults.
Bags of frozen edamame pods are available in the freezer section of most grocery stores near other vegetables and cooking them is a breeze! Just drop the desired amount into boiling water for five minutes or so, drain and cool (or steam in the microwave). And the extra bonus— a half a cup of shucked beans comes in at just 100 calories and 2.5 grams of fat!
You can enjoy raw veggies with hummus, have a reduced-fat cheese stick or snack on a container of non-fat, plain Chobani Greek yogurt with some nuts sprinkled on top.
Stock up on frozen fruit, such as Dole, from the freezer section. It'll act as "ice cubes" to keep the water cold and create fruit infused water which kids love.
Invest in some good coolers and reusable cooler packs. When we find ourselves taking impromptu trips to the pool or going on a road trip, I've invested in some small cooler bags and reusable ice packs to help keep our food fresh and cool the entire day.
With all of these tips and tricks to have a healthy summer picnic, I hope you take advantage of the warm weather and turn your average dinner or every day lunch into an exciting mealtime adventure for your friends and family!
Estela Schnelle is a Registered Dietitian and Nutritionist. She has a Masters in Nutrition Science from Texas Women's University and has practiced in San Diego, California, Virginia and Washington D.C. She was formerly the Director of Clinical Nutrition at Georgetown University Medical Center and formerly the Director of Clinical Nutrition at Sibley Hospital. She is the editor of "The Weekly Bite" and is a Cool Food Panel blogger on behalf of NFRA (National Frozen & Refrigerated Foods Association).