Take a Fresh Look at Frozen!
I am always looking for ways to make healthier meals in minutes, so the frozen food department is one of my main stops when I'm grocery shopping. The frozen cases have really evolved over the years, and I love that I can find hundreds of food options to help me create easy, affordable meals.
Remember there are many benefits of using frozen food, including:
Food is captured at the height of ripeness/freshness
It's often prepared and seasoned by expert chefs
There is a wide variety of tastes and menu ideas
They provide convenience and minimal waste
Can provide built-in portion control
Frozen vegetables and fruit don't require cleaning and cutting; just thaw or heat and eat!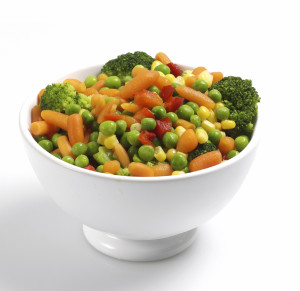 And here are some of the staples you'll find in my freezer:
Frozen veggies (think side dishes, add to casseroles/soups, snacks)
Frozen unsweetened fruit (smoothies, quick desserts, yogurt topping)
Frozen potatoes, rice or grain blends (simple side dishes)
Individually wrapped fish fillets (cook what you need)
Individual frozen meals for lunch (so many meet a range of dietary needs and preferences, including my desire for healthy options)
Frozen fruit juice bars; yogurt (quick desserts)
Frozen pasta
Healthier meals for two (for those super busy weeknights!)
And this is how I put some of these frozen options into easy-to-assemble meal ideas that are quick, delicious and healthy!
Shortcut Stuffed Bell Peppers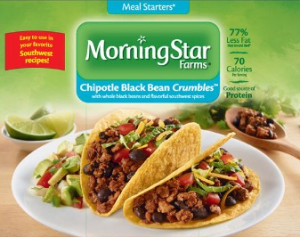 Heat oven to 350° F. Combine cooked MorningStar Farms® Chipotle Black Bean Crumbles with cooked Birds Eye Steamfresh® Brown & Wild Rice with Corn, Carrots & Peas.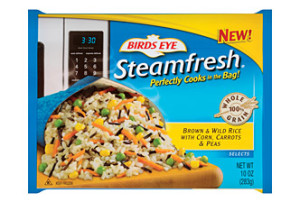 Cut bell peppers in half lengthwise. Remove seeds and membranes. Fill peppers with bean and rice mixture. Place peppers in 8-inch square glass baking dish. Cover tightly with foil. Bake 35 to 40 minutes until peppers are tender. Sprinkle with Mexican shredded cheese.
Serve with frozen vanilla yogurt and frozen berries for dessert.
Easy Ravioli Bake: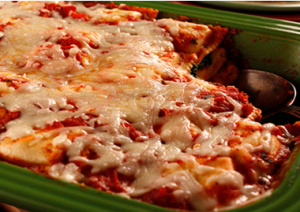 Spread 1 cup pasta sauce in a baking dish. Layer ½ bag frozen cheese ravioli (thawed), 1 pkg. frozen spinach (thawed, drained), and 1 cup shredded Italian Blend cheese. Top with remaining ½ bag of ravioli and pasta sauce. Bake 40 minutes at 350 degrees.
Serve with freshly baked frozen whole wheat dinner rolls.
Tasty Fish Tacos
Sprinkle 1 lb. of frozen tilapia fillets evenly with McCormick® Perfect Pinch® Salt Free Fiesta Citrus Seasoning. Heat 2 tablespoons oil in large nonstick skillet on medium heat. Add fish; cook 3 to 5 minutes per side or until golden brown and fish flakes easily with a fork. Cut fish into 8 portions.
Serve in warmed tortillas with desired toppings (salsa, avocado, sour cream, etc.), and a side of cooked frozen corn.
---
About Shari Steinbach, MS RDN, Meijer Health & Wellness Nutrition Manager
For the past 25 years, Shari has worked as a dietitian in the grocery industry and has served as the Nutrition Manager for the Grand Rapids, Michigan-based retailer, Meijer, since 2003. In her role, Shari manages consumer health communication, community events, nutrition programs, and solution-selling strategies with a team of five other dietitians.
Meijer is a member of the National Frozen & Refrigerated Foods Association