Snow Day Eats, Beverages & Treats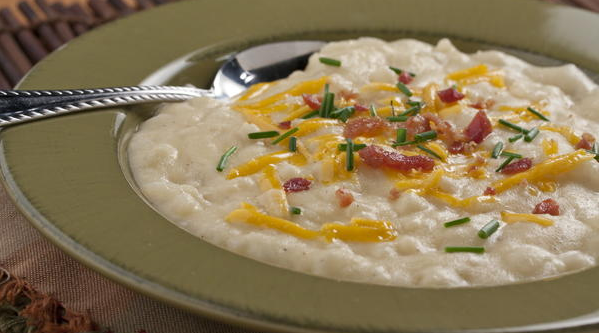 After the Easy Home Meals team ladies were snowed in all weekend from getting slammed with over 30 inches of snow, we were all inspired to share some of the eats and treats we enjoyed in between shoveling snow and napping…. 🙂  
Julie~
Nothing warms you up after all that shoveling like a steamy bowl of soup. This Loaded Baked Potato Soup is one of my favorites because it has the three best ingredients: potatoes, cheese and bacon! Mmmm!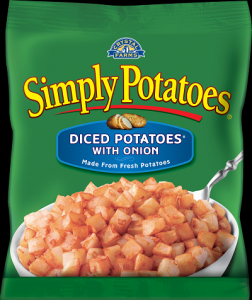 And this recipe is made even easier by using Simply Potatoes Diced Potatoes with Onion from the dairy aisle (no peeling or chopping required!)
The great thing about soup is that you can whip some together with just about any ingredients you have on hand. Take some chicken or beef broth and add whatever frozen vegetables you have in the freezer and voila! So while the kids clean up the driveway, you can clean out the freezer and be ready with something hot when they come in from the cold!
Roxanne~
I can't say that winter is my most favorite time of the year, or that I love the snow by any means. However, there's something nice about getting snowed in for a few days (before Cabin Fever sets in anyways). As long as you're stocked up with plenty of munchies and drinks, plus a line-up of movies and TV shows to watch, it isn't so bad.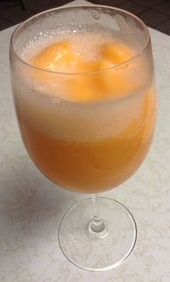 Besides having plenty of water and milk, to me it's also essential to have plenty of beverages like hot chocolate, champagne, orange juice, beer and wine. As I've mentioned in previous posts, I'm obsessed with orange juice + champagne, a.k.a. mimosas. This time instead of the usual mimosa, I thought I'd switch it up a bit. Besides picking up Florida's Natural Orange Juice with no pulp, I bought a container of Whole Fruit Valencia Orange Sorbet to go with my champagne. I don't care that we were in the middle of a blizzard, this supercharged mimosa was seriously amazing and perfectly refreshing after working up a sweat from shoveling!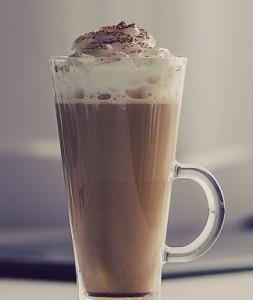 For those moments buried under a pile of blankets, hot chocolate to the rescue! While I truly believe in the concept "if it's not broke don't fix it," I just had to try this Double Caramel Hot Chocolate recipe. To add my own personal touch, I topped it with a dollop (or three) of whipped cream and sprinkled on some sea salt and some more chocolate. If you're a hot cocoa lover like me, than you must try this caramel-infused recipe the next time you're snowed in or if you're craving a warm, scrumptious beverage!
Natalie~
I'm not a fan of winter but I must admit, snow days stuck inside can be pretty fun. Between vegging out on the couch with Netflix and a fire burning beside you in the cozy comfort of your home, it's nice to be able to relax. And since you can't (or don't want) to go outside, why not throw some stuff in the crockpot for an easy lunch or dinner – then you can enjoy the cooking aroma throughout the day 😉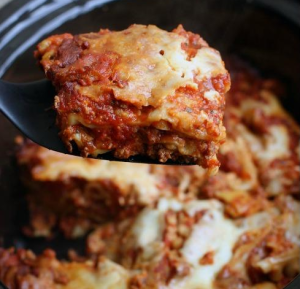 I've been trying to use my crockpot more since receiving it as a gift a couple Christmases ago. A recipe I've been eyeing up on my Pinterest board is this Slow Cooker Lasagna – who knew you could make lasagna in a crockpot!? It still requires some assembly, but then you've got hot and gooey lasagna to fill your tummy for the whole day.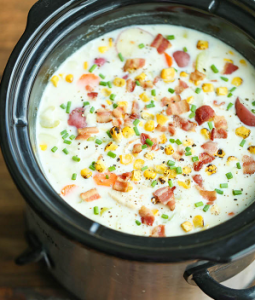 Slow Cooker Chicken and Corn Chowder also caught my eye as a great snow day meal. Use already on-hand freezer staples like frozen veggies and Tyson frozen chicken so you don't have to leave the house! This Slow Cooker Vegetable Beef Soup is another comfort food to warm you up when it's chilly outside. To make it easier, use whatever frozen veggies you have on hand (no dicing or chopping required)! You can even pair easy frozen rolls or garlic bread to complete your crockpot meal!
Judy~
When our kids were young and a snowstorm kept the whole family at home with nowhere to go, for some reason we always turned to baking chocolate chip cookies!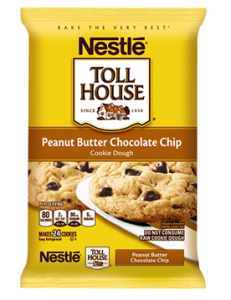 These warm delights were a special treat after sledding and playing in the snow…and they made the house smell wonderful. Our favorite cookies to bake were Nestle Toll House Peanut Butter Chocolate Chip Cookies—so delicious and so easy as they're ready-to-bake in minutes! We always made sure we stocked up on cookie dough from the dairy aisle before bad weather struck.
The kids aren't at home anymore, but I still find the best way to weather a storm is to bake! During this past weekend's major snowstorm, I looked at what kind of ingredients I had in the house and found Pepperidge Farm's Puff Pastry Cups in the freezer. I had a coupon and bought them a few weeks back with the idea to try a recipe someday 🙂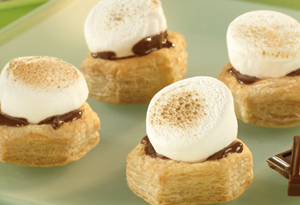 I searched the Pepperidge Farm Puff Pastry website for ideas (specifically something involving chocolate) and found these simply amazing S'mores Cups. The recipe required only three ingredients: the Puff Pastry Cups, chocolate candy bars (had them in the freezer leftover from Halloween) and Marshmallows (always have them on-hand for toasting over the fire pit). Perfection! Fun to bake, so tasty and was enjoyed by all. I highly recommend these during a snowstorm…or anytime!
~
What are you favorite foods and drinks to enjoy while being snowed in? Let us know in the comments below!