Smoothie Vs. Smoothie Bowl – What's the Difference?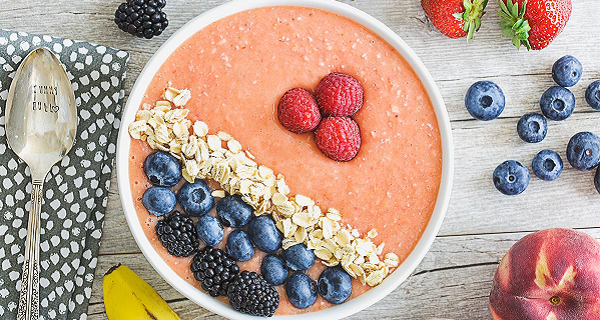 If you follow the foodie world, you've undoubtedly noticed the pages of most culinary bloggers are suddenly filled with beautiful images of symmetrically placed fruit and veggies ensconced in large round bowls, accompanied by spoons, not straws.  What is this trendy new concoction and why is it so popular? It's called a Smoothie Bowl – and it may be the most perfect breakfast meal ever created.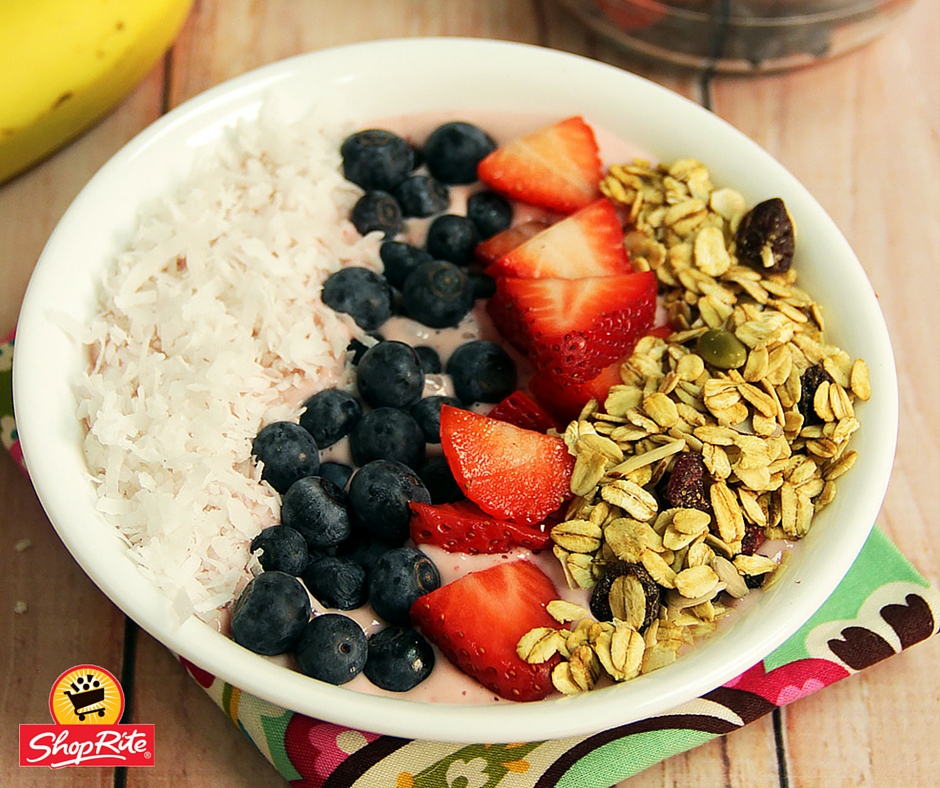 Smoothie Bowls aren't meant to be gulped down in seconds like a regular smoothie – which traditionally is made of pureed fruits and yogurt. But rather, a smoothie bowl is meant to feel like a real meal with layers of flavor, texture and color. Plus, you enjoy it with a spoon, not a straw.
Owing to their thick texture, smoothie bowls are designed for toppings, as their dense consistency holds up to hearty ingredients like nuts and granola, which add crunch and texture while providing sustained energy, healthy fats, and protein to keep you full throughout the day.
The best bowls mix plant-based fats with low glycemic fruits and nutrient-rich green vegetables. Foods like avocado, nuts, hemp and chia seeds add thickness and creaminess to your bowl's base while providing healthy fats and anti-inflammatory omega-3's to keep you filled up and fueled until lunchtime. Low glycemic fruits like berries, cherries, apricots, apples and pears offer fruity flavor and beneficial nutrients while promoting stable blood sugar levels.
Due to their overall consistency and healthy ingredients, smoothie bowls make them a great choice for die-hard cereal eaters who are looking to transition into healthier breakfast habits.
How Do You Make A Smoothie Bowl?
To get started, add fresh or frozen fruit into a high-power blender. Throw in some nutrient-dense greens, such as spinach or kale, and thicken with plain Greek yogurt or healthy fats like almond butter, coconut oil, flax seed or avocado to create a thick, rich, creamy consistency – much like frozen yogurt.
You need a little liquid but the amount depends on the consistency you want. Generally, add enough milk or ice cubes to puree the ingredients, yet have enough heft for the spoon to stand in the center of the bowl.
Let the kids get creative with an array of toppings to "decorate" their bowls much like they would an ice cream sundae. Sliced fruits, chopped nuts, shredded coconut, pumpkin seeds, cinnamon and granola, plus maple syrup to drizzle, make a healthful – and fun – assortment.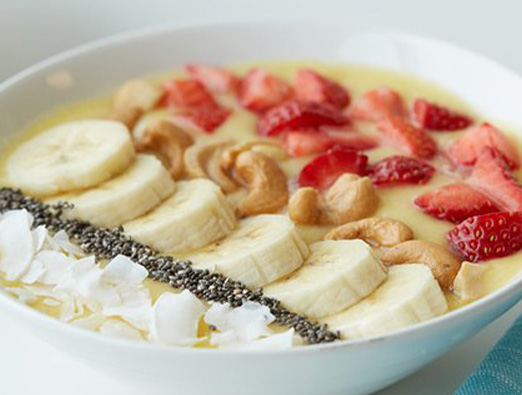 One of my favorite smoothie bowls is a thick blend of frozen berries, bananas, kale, almond milk and agave, topped with slices of strawberries, granola and dried goji berries.  My kids, however, are partial to a chocolate, hazelnut, hemp smoothie. They don't even know the hemp (a plant-based protein loaded with iron and omega-3 fats) is in there. Its earthy yet neutral taste pairs well with chocolate, bananas and hazelnuts.
Finally, adding a handful or two of leafy greens like spinach, kale, or Swiss chard into your base blend lets you "sneak in" a serving of vegetables into your first meal of the day, without changing the fruity flavor you expect from a smoothie.
For a striking presentation, use dragon fruit to produce a vibrant pink bowl. This frozen puree looks beautiful with a ring of toasted coconut flakes or an edible flower floating in the center. Dragon fruit tastes similar to melon and is a great source of antioxidants, fiber, magnesium and B vitamins.
Here are some scrumptious smoothie bowl recipes to get started on:
Have you ever eaten a smoothie bowl? If you have, be sure to share your own smoothie bowl concoctions in the comments below!
---
About ShopRite
ShopRite is the registered trademark of Wakefern Food Corp., a retailer-owned cooperative based in Keasbey, NJ, and the largest supermarket cooperative in the United States. With more than 260 ShopRite supermarkets located throughout New Jersey, New York, Pennsylvania, Connecticut, Delaware and Maryland, ShopRite serves more than six million customers each week. A long-time supporter of key community efforts, ShopRite is dedicated to fighting hunger in the communities it serves. Through its ShopRite Partners In Caring program, ShopRite has donated $40 million to 2,000 worthy charities and food banks since the program began in 1999. For more information, please visit www.ShopRite.com.
About Wakefern Food Corp.
From a small, struggling cooperative with eight members — all owners of their own grocery stores — Wakefern Food Corp. has grown into the largest retailer-owned cooperative in the United States. Founded in 1946, the cooperative is comprised of 50 members who today independently own and operate 336 supermarkets under the ShopRite, The Fresh Grocer, Price Rite and Dearborn Market banners in New Jersey, New York, Connecticut, Pennsylvania, Maryland, Delaware, Massachusetts and Rhode Island. Together with its member companies Wakefern employs more than 70,000 people, making it one of the largest employers in New Jersey. For more information, please visit www.Wakefern.com.
Wakefern Food Corp. is a member of the National Frozen & Refrigerated Foods Association. This post originally appeared on the ShopRite blog.