Say Cheers to these Seasonal Beverages
The holiday season may be all about the festive appetizers and decadent desserts, but you can't forget the drinks! Whether hot, cold or alcoholic, refresh your guests with these tasty holiday beverages!
Remember these best-kept secrets to having the perfect beverage experience this holiday season:
Want a holiday inspired drink? Dip candy canes in chocolate and let the chocolate set. These will be great as coffee stirrers, plus they'll add a touch of holiday flavor to any cup of coffee[1]!
Dontcha' just hate when your iced coffee gets watered down? All you have to do is make coffee ice cubes instead of putting regular ice into your cold coffee (genius!)[1].
Speaking of watered down, instead of ice garnish your cocktails this season with frozen raspberries and strawberries for a festive (and fruity) touch! The frozen fruit will keep your drink cold without watering it down.
You can enjoy your favorite drinks this season without the guilt of all the sugar and empty calories. Trick the eye and make, enjoy and/or serve drinks in smaller cups[1]!
Don't forget, you can have your favorite coffee-house beverages at home by picking up your favorite coffee creamer flavor from the dairy aisle – there's so many flavors to choose from!
Now, onto our absolute favorite hot, cold and alcoholic beverages:
Cold
Eggnog is a classic beverage during the holiday season, but if you want to make it healthier, use egg substitute instead of eggs, fat-free milk instead of whole milk and leave out the alcohol. Try our festive and light 

Holiday Eggnog

! 

For those looking for a fun twist on ordinary eggnog, this French Vanilla Eggnog is extra delicious with the addition of French vanilla coffee creamer.
No time to make eggnog from scratch? Pick up International Delight's Classic Egg Nog!
If you're in the mood for something fruity this holiday season, Welch's Sparkling Sugar Plum Punch will definitely do the trick!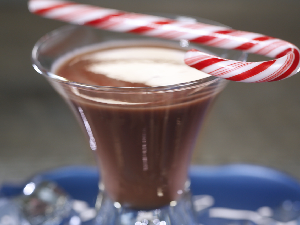 What is it about the Christmas season that make us crave peppermint? Try a scrumptious Freshly Minted

 and feel free to liven it up with bitters and spirits.

Love fancy frozen drinks but not the pricey cost? Be your own barista and whip up this Peppermint Chocolate Truffle Frappe!
Hot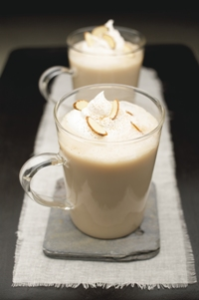 Alcoholic
A signature cocktail is a must at any holiday get-together. You can't go wrong with these tasty holiday cocktails:
What's your favorite beverage during the holiday season—classic eggnog? Hot chocolate? Let us know in the comments below!
[1] https://www.coffee-mate.com/My-Cafe/Be-Your-Own-Barista.aspx