Refresh Your Freezer and Fridge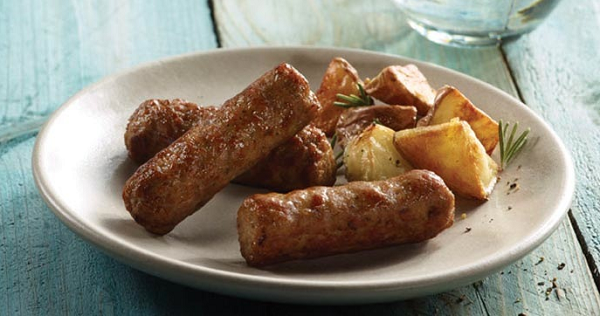 The holidays are over, and with any luck you have tossed all the leftover sweets that were lingering on your kitchen counter. Long gone are the sweet potato casseroles, the mashed potatoes and the cranberry sauce that were jam-packed in the fridge. It's January, and it's time to take back your freezer and fridge!
Freezer
Start by cleaning the freezer out and taking an inventory. If you can no longer identify what the food was (hello, freezer burn!) toss it in the garbage. Organize your freezer by food groups or meal occasions—appetizers, dessert, entrée – and try to keep a running list of what you are putting in your freezer. Be sure to cross it off the list after you eat it so you know it needs to be restocked for easy weeknight meal assembly. Depending on the size and style of your freezer you can separate the food groups by shelves, sides, or plastic tubs. Check these additional tips out for more ways to keep your frozen foods fresh and safe.
Fruits & Vegetables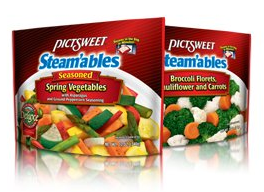 Organize frozen fruits and vegetables together. Look for convenient steamer bags of vegetables (like Pictsweet Steam'ables) that you can use for lunch and dinner.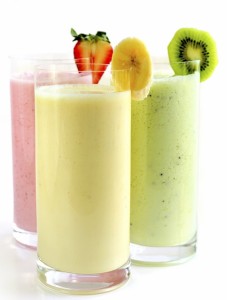 The freezer aisle has plenty of budget-friendly fruit options too – all of which were frozen at the peak of ripeness. Frozen fruit can be used for smoothies or as an ice cream topping—best part, they are available year-round!
Grains
Next, designate a space to all grain products. Frozen steamer bags of quinoa or rice are always a good choice, while having something kid-friendly on-hand for those busy mornings like whole grain pancakes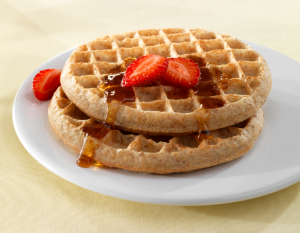 or ready to heat and eat waffles. Don't be fooled, you can have breakfast for dinner too, chicken waffles or breakfast burritos are versatile options and convenient favorites.
Protein
Devote a space to all types of proteins. Keep individually packaged frozen fish fillets and chicken tenders on this shelf. These perfect portions make it easy to cook for one or two people without having to defrost large amounts. Both of these proteins can be defrosted on the bottom shelf of your refrigerator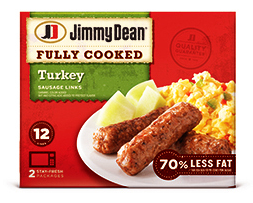 during the day and then baked in under 20 minutes for a quick and delicious better-for-you dinner. If you buy frozen turkey sausage like Jimmy Dean's fully cooked turkey sausage links, open the package, and store 2-3 sausage links in individual freezer baggies so you can defrost one serving at a time.
Extras
Things like leftover soup and pasta sauces also freeze well. Store these items in an airtight container filled to capacity to help eliminate freezer burn. Take the time to label the item with its contents and the date to make identifying items easier and quicker.
Refrigerator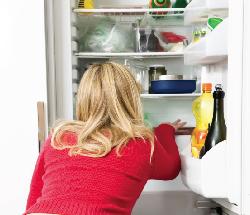 Now let's take a look at the contents of your refrigerator—even all the way in the back! Toss out anything that has expired, including condiments. If you have a baking soda box in your refrigerator, check the date, and replace it if needed. A quick Refrigerator Cleaning 101 may help too. Now begin to think about frequent foods that you and your family consume. These are the foods you want to make sure you always have on hand.
Refrigerator Drawers & Produce
Do you use refrigerator drawers properly? It's okay, most people are unsure which foods to put where. Foods that tend to rot, like berries, should go in a drawer with a low humidity setting—meaning open the notch all the way. The foods that tend to wilt, like spinach, greens and herbs, should go in the drawer with a high humidity setting—meaning close the notch all the way. Fill your fruit and vegetable drawers with produce; but only the amount you and your family will use in 5-7 days.
Fresh produce won't last like the canned soup in your cupboard, and storage times is one of the many benefits of frozen varieties. If you buy fresh produce too, a few tricks can help make it stretch a few more days. Wash and cut your own greens—when dry, store them in a perforated bag. You can make your own perforated bag by taking a knife and scoring the bag. You can store your cut celery and carrots in a mason jar filled with water so they won't dry out. Apples and pears are best when stored in the fruit drawer rather than on the counter; they will last longer! And when in doubt, you can always stock up on frozen!
Dairy & Eggs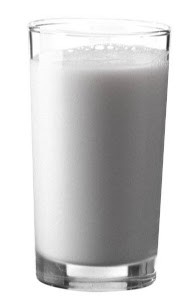 Stock your refrigerator with low-fat dairy products or non-dairy alternatives (if you prefer), like milk, yogurt and string cheese which are great for mid-day snacking or on-the-go moments. Don't forget to stock up on eggs! Eggs are a versatile protein that can easily go from breakfast to dinner.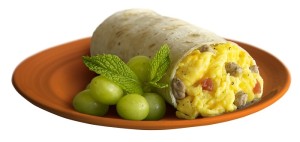 They are great scrambled for breakfast, hard-boiled for a snack and made into a frittata for dinner.
Let's Dip
Remember all that beautiful produce in your freezer and refrigerator drawers? Consider paring it with a protein-packed dip, like hummus or a natural nut butter, to make a better-for-you snack. Be conscious of the sodium content in the hummus; this is a great time for another at-the-shelf comparison.

Look for a nut butter with only one ingredient—the nut! When you switch over to a one-ingredient nut butter, you'll notice the oil separates at room temperature. Simply give your nut butter a good stir, and store it in the refrigerator. The natural oil in nut butter is only liquid at room temperature, so when it's stored in the refrigerator, the oil layer will not form.
A clean and organized freezer and refrigerator is vital for general health and healthy meals. Proper storage and first-in-first-out rotation of food is important for making food last. If you cannot remember how long something has been there—toss it! Follow these storage tips to keep your refrigerator and freezer fresh all year round.
---
This post was brought to you by Paula Gallagher, RD, LD, Regional Dietitian Specialist for Giant Eagle. Giant Eagle is a member of the National Frozen & Refrigerated Foods Association. A Registered Dietitian and Ohio Licensed Dietitian, Paula serves as Giant Eagle's Regional Dietitian Specialist for Columbus, Ohio. Paula is a graduate of Bowling Green State University with a Bachelor of Science degree in Dietetics and completed her internship at Bradley University in Peoria, Illinois. She has counseled individuals on weight loss, diabetes, food allergies, and other conditions. She has a passion for nutrition, cooking, wellness, and enhancing her knowledge as a member of the Academy of Nutrition and Dietetics.