Plan a Father's Day Brunch He'll Always Remember!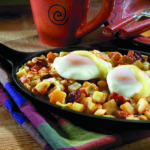 Thinking of making your dad brunch this Father's Day? Great idea! Let me help give you some inspiration on hearty but healthy Father's Day Brunch ideas that are sure to please. First, think about the star of the table, the item you will likely spend the most time on. If you have too many stars to make you will feel overwhelmed and pressured which makes everyone stressed and unhappy. Casual and relaxed and what dad really wants, and to eat before his blood sugar gets too low.
Starters

Depending on what time you are serving brunch and if you plan to have a coffee or mimosas before you sit down, you may choose to have an appetizer on hand for those with the munchies.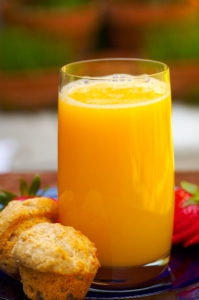 Bite sized smoked salmon, asparagus and goat cheese frittatas cooked in mini muffin tin
Mini morning glory or blueberry oatmeal muffins
Fruit plate with strawberries, raspberries, blueberries and kiwi
Chilled prawns with seafood cocktail sauce
Cherry tomato, basil and pearl bocconcini on toothpicks with pesto drizzle
The Main Event
Avocado salmon toasts: Toasted grainy bread topped with fresh avocado slices, a thick slice of tomato, gravlax or smoked salmon lox and fresh pepper. Top that with an arugula salad sprinkled with capers and a lemon olive oil dressing. Add a poached egg if you like.
Breakfast wraps: Fill a whole grain tortilla with scrambled egg, cooked spicy chorizo sausage (crumbled and drained of fat), diced tomato, fresh spinach leaves and grated cheddar cheese. These can be made ahead, covered with foil and kept warm in the oven.
Deluxe omelet and oven roasted potatoes: Fill omelet with a mixture of sautéed onion, apple, bell peppers, shredded kale and mushrooms (diced ham if you like), cheddar and feta cheese. Roast potatoes in oven, sprinkle with chives before serving.
French toast and Fruit and yogurt parfait: Use a creamy Greek Vanilla yogurt and layer it with berries and sprinkle the top with walnuts or granola. People can empty the parfait onto their French toast or eat them separately.
Eggs and grilled vegetable towers: The day before, marinate and then grill bell pepper quarters, eggplant rounds and zucchini sliced on the diagonal. The day of, layer the vegetables in a tower with a ball of goat cheese in the middle between a couple of the layers. Stick a long toothpick through the tower and reheat before serving. Serve with eggs any style. Yes, I know you are thinking it…where's the steak? Fillet mignon would be perfect for a hungry crowd but turkey sausages would also do the trick for less money.
Colorful Sides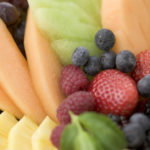 Fruit salad: What is brunch without fruit salad? I love all the berries, cherry halves (pit removed), mango, kiwi, grapes and watermelon. Add pineapple, cantaloupe and melon if you prefer. Garnish with fresh mint.
Sautéed asparagus: Sautee fresh asparagus in olive oil and garlic. Season with salt and pepper and a squeeze of lemon.
Papaya and avocado salad on Romaine with purple onion: This recipe is on my website. www.eatingoforenergy.com
Beverages
Don't do all of these, just choose one hot and one or two cold. KISS.
Smoothie shooters (small glasses of blended frozen fruit)
Soda water with lime wedges
Plain water in a jug with sliced oranges and pink grapefruit
Coffee of course!
Mimosa
Freshly squeezed OJ
Freshly pressed juice
Garnish
Make any plate of food look beautiful with a strawberry cut in half, an orange round in a twist or a sprig of fresh herbs like parsley or basil.
The Table
Make sure dad gets the best seat in the house.
Consider serving family style or do a buffet if you don't have room for all the dishes on the table. Nobody wants you to tell them what they must eat so let them serve themselves.
Dads love flowers too!
When everyone has been served, bring the fruit salad to the table if there is any left. It's always nice not to have to get up for seconds. Why not give a healthy nudge and make fruit the easy choice. Sneaky I know, but it works at my house.
End the visit with a family walk or hike and enjoy each other's company.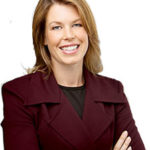 Special thanks to Diana Steele, B.Sc., RD for contributing this blog post. Steele is the owner of Eating for Energy, a nutrition consulting company with three locations in Canada. Since 1996, she has worked as a clinical dietitian who is committed to teaching nutrition in realistic and do-able way. She has provided nutrition counseling to over 2,000 people and has designed and delivered nutrition workshops and seminars around the country. Steele is the co-author of Eating for Energy without Deprivation — The 80-20 Cookbook and is a Healthy Heart Cooking Instructor at St. Paul's Lipid Clinic and Nutrition Representative for Mead Johnson Canada.