Our Favorite Ice Cream Novelties for Summer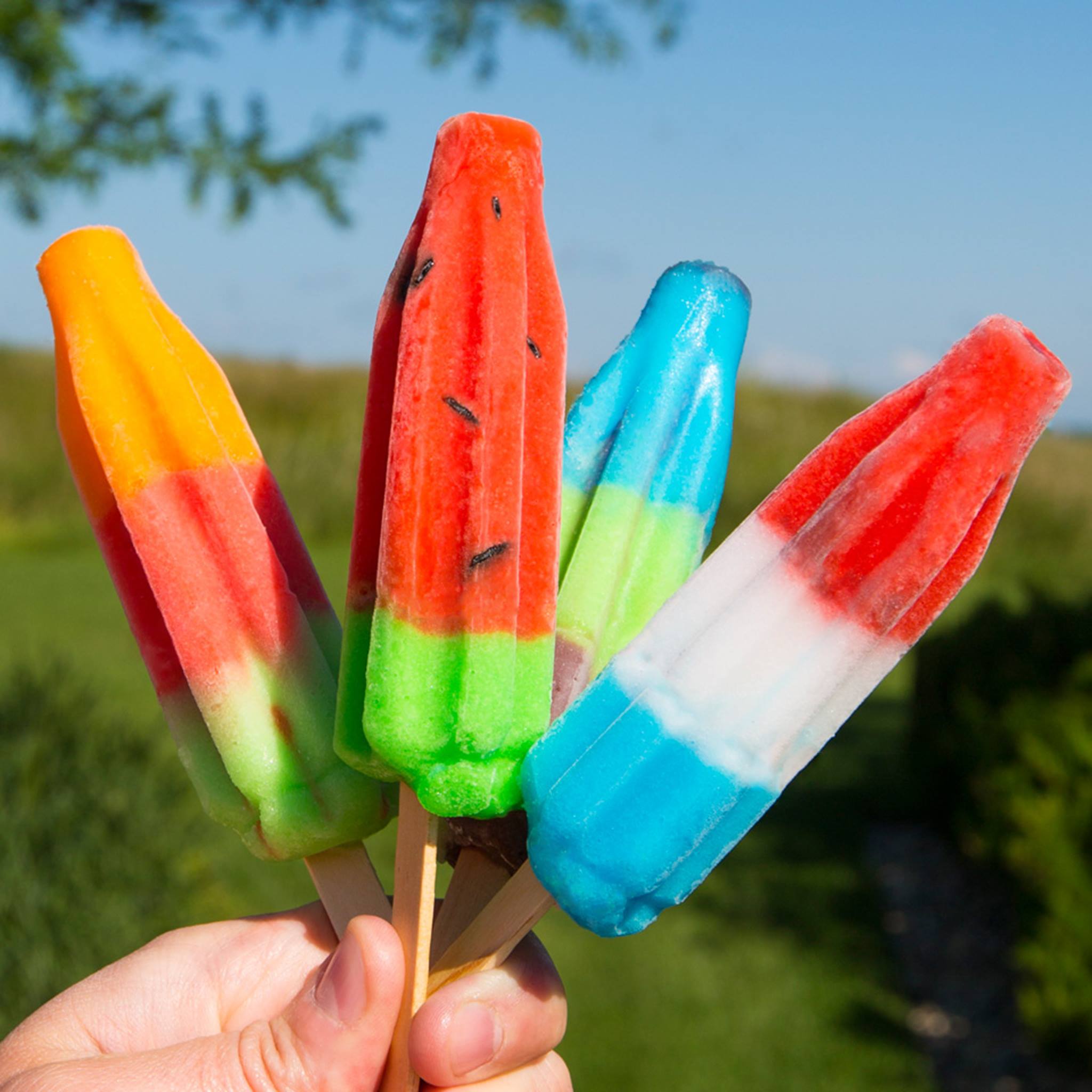 What could be better than a portable ice cream treat? From cones to bars and sandwiches to popsicles, ice cream novelties are some of America's favorite summer treats. These sweets were deemed as novel, or new, because they were the first pre-made ice cream desserts available when they appeared in the early 20th century. The first widely available ice cream novelties appeared as popsicles and ice cream bars during the 1920s.[1]
Did you know these ice cream novelties facts?
The popsicle was invented by Frank Epperson in 1905 when he accidentally left a glass – filled with water, powdered soda mix and a wooden stick for stirring – outside overnight. In 1923, Epperson filed for a patent for his invention[2].
Cherry is the most popular popsicle flavor[1].
The twin popsicle was invented during the Great Depression so two siblings could share an ice pop for the price of one[2].
The red, white and blue "Bomb Pop" was first invented by James S. Merritt and D.S. Abernethy in 1955.
The ice cream sandwich was created in 1899 in New York City by an unknown pushcart peddler. The heat from the hands helped to soften the ice cream, making it easier to eat[3].
In 1928, the Parker Brothers, Bruce, I.C., and J.T., added to the ice cream cone invention by adding a chocolate coating with nuts. One of the brothers' wives said that this invention looked like a chicken leg, commonly nicknamed a drumstick in the US – hence where the original name came from.
Served on a stick
Jolly Rancher Bomb Pop – The bold flavors of your favorite Jolly Ranchers are stuck on a stick.
Creamsicle – Indulge in the classic creamy orange flavor for a delicious 100 calorie frozen treat.
Rootbeer Float and Cream Johnny Pop – Nostalgia sets in with every bite of this perfectly creamy Root Beer & Cream pop.
Coconut Lime Bar – With delicious lime light ice cream, hints of coconut and a graham cracker swirl, it's like the ultimate beach day packed into bar form.
Cool Tubes – Tasty orange fat free sherbet in a push tube is a great outdoor treat!
Cool comfort in a cone
Best in a bar
Sandwiched together
Dairy-free Delights
Bite-Sized Bits
What ice cream novelty will you chill out with this summer? Share with us on social media @EasyHomeMeals.
[1] https://www.wisegeek.com/what-are-the-different-types-of-ice-cream-novelties.htm
[2] https://www.history.com/news/frozen-history-the-story-of-the-popsicle
[3] https://www.quora.com/Who-invented-the-Ice-Cream-Sandwich