The Meaning of Brunch by Generation
Brunch, dating back to the late 1800s and originating in the United Kingdom, is a meal eaten mid-morning usually containing elements of breakfast and lunch foods. While going out for brunch on Saturdays and Sundays has been on the rise the last couple years and usually involves sipping on alcoholic beverages such as mimosas and bloody Mary's, the "brunch" concept has different meanings from person to person and generation to generation. Plus, it's not even always consumed during the mid-morning hours. The Easy Home Meals team wanted to share our own unique side of what brunch means to us and each of our generations.
~Julie
I'm not sure I can say we've ever had "brunch" in my house if you define it as a meal eaten halfway between breakfast and lunch. Usually it goes something like this….
At 9:00 p.m. the night before, I'm informed that there will be five teenage boys "sleeping" in my downstairs. Of course there's very little sleeping going on. They have three TVs and three X-boxes hooked up, five laptops and a menagerie of cell phones, iPods, etc. Seriously, the value of my house increases by several thousand dollars when the gaming begins. (Sorry, I know mothers of girls can't relate. Just revel in the knowledge that girls smell better.)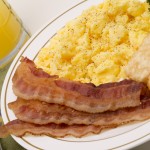 Eventually in the wee hours of the morning, they succumb to sleep. Then, sometime in the late morning to early afternoon, bleary-eyed boys start straggling upstairs. This is where a well-stocked fridge and freezer become a life-saver. Orange juice, milk, eggs, sausage, bacon and cheese – these are the staples required to turn them back into humans.
Pancakes are a must, but I like to fancy-them-up with some chocolate chips or frozen blueberries. You can't go wrong with straight-up eggs and bacon. But if you get good enough at judging what hour they'll wake based on the hour the noise died down, a breakfast casserole is hearty and everyone can eat at the same time. I like to use this egg and sausage casserole that my mother used to make. You can mix it together the night before and just refrigerate until you're ready to put it in the oven.
EGG AND SAUSAGE CASSEROLE
1lb. cooked sausage
10 eggs
1 cup of red pepper, finely chopped
1 cup milk
1 cup bread crumbs, cubed
1 tsp. mustard
1/2 to 1 lb. shredded cheddar cheese (to your taste)
Mix all ingredients, pour into greased 9 x 13 casserole dish, bake at 350 degrees for 30 minutes or until cooked through.
~Roxanne
If I had to describe brunch in two words it'd be "girlfriends" and "mimosas." Since going out for brunch (especially after a night of bar-hopping) has become increasingly popular for millennials, I decided I'd host my own brunch and invite my best girlfriends from high school.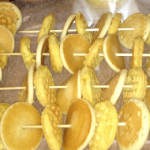 First on my menu were waffle and pancake kabobs using Eggo Minis Waffles and Pancakes. Everyone knows that everything tastes better on a stick—especially if it's miniature!
I don't know about you, but I'm a big fan of  borderline obsessed with mimosas! Anytime I go out for brunch with friends, bottomless mimosas are a must. With a little inspiration from Pinterest, I thought, why not have a mimosa bar at my own brunch? I had champagne, sparkling cider (for my pregnant friend), frozen fruit (raspberries and strawberries), orange slices and of course, orange juice.
My brunch was the perfect opportunity for my friends to taste-test our new Easy Home Meals recipes for June Dairy Month: Kickin' Cheese Tarts and Raspberry Banango Smoothies. The cheese tarts were a HUGE hit and everyone loved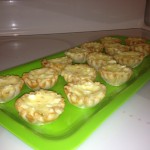 the smoothies—which I served in shot glasses for a cute and fun touch!
The rest of my menu included chocolate croissants—which I made by rolling chocolate chips in refrigerated crescent rolls; Bridgford Foods Cinnamon Monkey Bread; chips & salsa, fresh fruit; and my most popular menu item: funfetti dip—which I made by mixing funfetti cake mix, vanilla yogurt and whipped cream topping together (it is UH-mazing!).
Through planning my brunch menu I discovered that the dairy and frozen food aisles became my new BFF! No longer was I obsessing over making every single thing from scratch; I mean who has time for that anyways? Thanks to the cool aisles, I was able to spend less time slaving away in the kitchen and more time sipping on mimosas, gossiping with my girls and chowing down on some yummy grub!
~Natalie
Brunch is a meal perfect for a lazy Saturday or Sunday morning when there's no buzzing alarm clock. In my mind, brunch is awesome because it's the perfect blend of yummy breakfast AND lunch foods without having to wake up before the birds. For our "brunch date" we made breakfast burritos using a ton of tasty refrigerated foods. My boyfriend and I have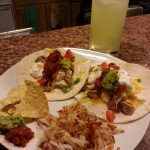 a love affair with Mexican food, so we got to work on creating a meal with the tastiest of ingredients.
We put cooked egg whites, shredded cheese, breakfast sausage, chopped green peppers, onions and tomatoes inside the tortillas and warmed them on our panini maker. Then we topped them with salsa, guacamole and sour cream for extra deliciousness and rolled them up. We heated shredded hash browns on the stove for a side, and threw in some tortilla chips to enjoy with guacamole. To complete our Mexican brunch, we started the day off right with margaritas!  (Hey, it's 5 o'clock somewhere!)
~Judy
When you are a Mom, no matter the age of your children, Mother's Day is very special. Our son couldn't make it in from out of town this year, but our daughter did. And I was particularly fortunate because I also was able to spend the day with my Mom. My original plan…"the vision"…was to prepare a delicious, beautifully prepared and served, Sunday brunch for all.  My tasty Cheesy Eggs is traditionally a big hit. I always accompany the dish with easy-to-prepare, sliced ham or Canadian bacon, fruit (usually buy a big bag of frozen fruit and supplement it with whatever is in-season and in-
the-house), and a long-time family favorite: Pillsbury Cinnamon Rolls with icing (the kids really thought I made them homemade when they were young :)).
But reality set in as the busy Mother's Day weekend consumed me, and I didn't have time to go grocery shopping and prepare the brunch as planned. I reluctantly told the family Saturday evening that we would just go out for brunch on Sunday morning – a little disappointing for me, but no complaints from anyone.
Sunday morning arrived, and when I came down the stairs, I quickly recognized the familiar, wonderful smell of Cheesy Eggs baking in the oven.  What a great surprise!   My husband and daughter had planned and prepared the brunch late Saturday evening.  It was a terrific Mother's Day morning spent the way I had originally envisioned it – in the comfort of our home, with delightful food and drink and with my favorite people in the world!  
Now that we've shared our own snapshots of what this unconventional meal means to us, we want to know how you brunch. Share in the comments below!