Katie Workman's One Pot Meatball Orzo & Broccoli Rabe Casserole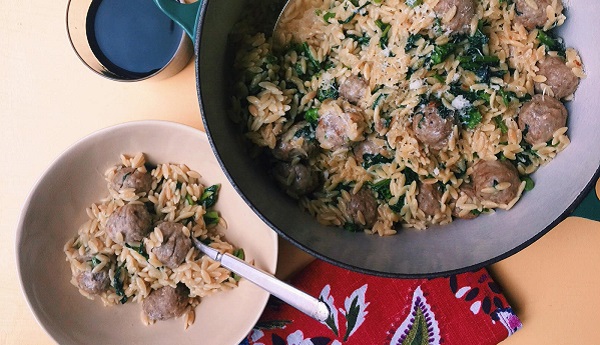 The joys of a one pot recipe are hard to summarize.  Well, that's not quite true, these words make most of us very happy.  This recipe turns super-convenient, frozen meatballs into a creamy, slightly cheesy main dish, complete with the vegetables built right in. You could use other vegetables, such as broccoli or asparagus in place of the broccoli rabe if you'd like, and you can keep changing the dish up with the seasons.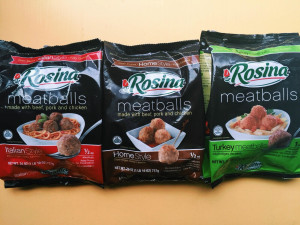 Another way to vary things up is to experiment with different flavors of frozen meatballs.  I used the classic Homestyle version from Rosina in this recipe, but this dish would be great with the Italian variety, or the Turkey.  Rosina purchases meat for their products daily, and uses high quality ricotta and imported Pecorino Romano, which is freshly grated. I always keep a bag or two of meatballs in the freezer because it has saved dinner many times in my house!
This dish was almost risotto-like in texture, though it uses rice-shaped orzo pasta instead of rice, and involves much less stirring. Even though this recipe technically serves eight, my family of four did some pretty serious damage to the casserole. But, thankfully we still had leftovers.  Ours had more pasta than meatballs since my kids went back into the pot many times and plucked out the meatballs for their second servings!
And, in case you didn't know, March is Frozen Food Month! A good reminder, or excuse, to take a look at the frozen food section and see if there's anything new since you've last been there….I'm betting there is!
One Pot Meatball Orzo & Broccoli Rabe Casserole
2 tablespoons olive oil, divided
1 tablespoon minced garlic
6 cups roughly chopped broccoli rabe
½ teaspoon hot pepper flakes
Kosher salt to taste
½ cup chopped onion
1 (16-ounce) package of orzo
4 cups less-sodium chicken stock
1 (26-ounce) package of frozen Rosina Homestyle Meatballs (or Italian/Turkey)
½ cup finely grated Parmesan cheese, plus more for serving
In a large Dutch oven or heavy pot, heat 1 tablespoon of the oil over medium high heat. Add the garlic, broccoli rabe, hot pepper flakes, and salt. Cook, stirring frequently, until the broccoli rabe is crisp tender, about 4 minutes. Transfer the broccoli rabe to a plate.
Return the pot to medium high heat, add the remaining tablespoon olive oil, and then add the onions. Sautee the onions for 2 minutes, then add the orzo. Cook, stirring frequently until the orzo turns lightly golden and is coated with the oil, about 1 minute.  Add the chicken broth and the frozen meatballs, stir, cover and bring to a simmer over high heat.  Reduce the heat to keep the liquid at a simmer, partially cover the pot,
and cook for about 10 minutes, stirring frequently, until the meatballs are cooked through and the orzo is tender and has absorbed almost all of the liquid.  Stir in the cooked broccoli rabe and the Parmesan, and serve hot, with extra Parmesan on the side for sprinkling.
Cooking Tips:
You could use other vegetables, such as broccoli, asparagus, peas or kale in place of the broccoli rabe if you like, and keep changing this dish with the seasons.
Another way to vary things up is to experiment with different flavors of frozen meatballs.  I used the classic Homestyle version in this recipe, but this dish would be great with the following varieties: Italian, Beef, Swedish or Turkey.
If you want to make this ahead of time you can keep it for up to three days, covered in the refrigerator.  Heat it with an additional ½ cup of broth or water over low heat, covered, and stirring every few minutes until heated through.


---
Katie Workman's One Pot Meatball Orzo & Broccoli Rabe Casserole