Katie Workman's Burrito Enchilada Casserole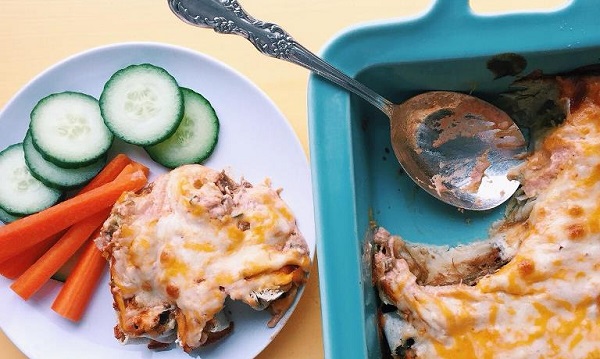 It takes almost no work at all to turn flavorful frozen steak and cheese burritos into a Mexican enchilada-style casserole, and I will tell you that my family went BANANAS for this one.  My kids love a good burrito, and they love the flavors of enchiladas as well, and it was so easy to create this shortcut burrito "hack" casserole that made everyone extremely happy. 
I love that the El Monterey burritos came 12 to a pack (and larger and smaller sized packages are available), and that you can pull out one, two or six, and have the rest of them stashed in the freezer for another night.  El Monterey started in 1964, as a small family company relying on a regular-sized mixer and Fred Ruiz's mother's recipes.  It's still family-owned, going into its fourth generation, and the Ruiz food team is still passionate about what they do.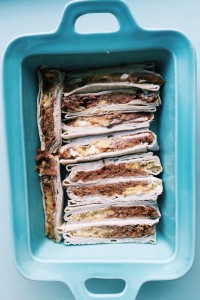 Defrost the burritos in the refrigerator overnight.
Preheat the oven to 350°F.
Cut the burritos in half lengthwise (cut them down the wider side), and place them filling side up in an 8×10-inch casserole dish (or one big enough to hold all 8 of the burrito halves). In a small bowl blend together the enchilada sauce, ½ cup sour cream, and jalapenos. Spread the mixture evenly over the tops of the burritos.  Sprinkle with the shredded cheese.
Bake for about 30 minutes, until the cheese is melted and golden, and the burritos are heated through. Serve with salsa and additional sour cream, if desired.
Cooking Tips:
Katie Worman's Burrito Enchilada Casserole