Katie Workman Celebrates June Dairy Month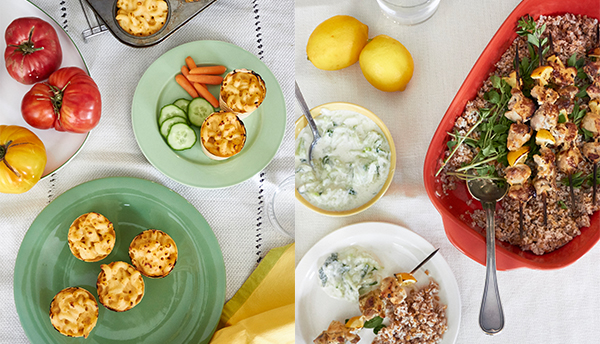 June is a favorite month in our household.  Of course the warmer weather is a great base, and then there's those first nights of grilling, Father's Day, eating outdoors….but my kids would look at me with confusion as I list these reasons first.  It's also the end of the school year, hence the beginning of summer, which is a magical moment in their world.
But here's something you might not know about this month: it's also June Dairy Month!  Oh, wait, you did know that?  Well, either way, it's nice to have a month-long excuse to shine the light on one of the best groups of foods and one of the best sections of the supermarket.
And within the dairy aisle are some of my favorite ingredients.  Can we talk about butter for a moment?  There is not a chance that I don't have a couple of pounds of butter in my house at all times, ready for baking, sautéing and using in both sweet and savory recipes.   Julia Child said it best: "With enough butter, anything is good."
A few words about shredded cheese, probably the most convenient ingredient I use the most. I can't count the times where a bag of shredded cheese (whether it be cheddar, mozzarella, a Mexican or Italian blend or another variety) has made dinner happen and saved the day.  Lasagnas, tacos, casseroles, enchiladas, you name it, it happens because of a bag of shredded cheese.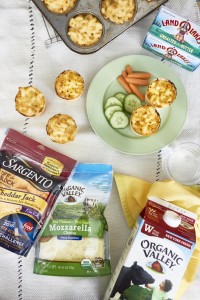 But I didn't forget about you milk!  (And cream, and half and half….) I know that because we use you so much in coffee and cereal you might feel taken for granted, but I love you as a pillar ingredient as well.
So all of the above came together in creamy and adorable Four-Cheese Mac and Cheese Muffin Cups! It's everyone's favorite comfort food, made in muffin tins so that they are portable (and adorable!).  These would be a great item to serve for one of those end-of-school parties.
And then there's the section of the dairy aisle that I feel grows larger and more interesting with every passing week: the yogurt section.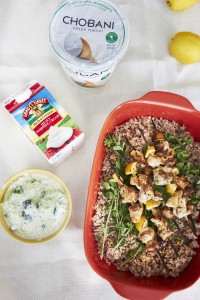 And Greek yogurt in particular has really and truly come into its own here in the United States, with so many brands and flavors and varieties to choose from.  I love using the plain version in recipes to add richness and a bit of tanginess with less fat, and in the case of these Greek Yogurt Marinated Chicken Kebabs, a tenderizing quality as well.
I'm not even getting to cottage cheese, sour cream, sliced cheeses and the lactose-free options that are so readily available for those who want them.  I'm not even mentioning eggs, which are one of my most essential foods and ingredients of all time.  The dairy aisle is a big and rich chunk of the supermarket, and I have a strong hunch that this June will be a very creamy and rich one for my family and friends!
---
Katie Workman is author of The Mom 100 Cookbook, Dinner Solved (August 2015) and creator of The Mom 100 blog. She's all about cooking for family and friends and is so excited to be working with the National Frozen and Refrigerated Foods Association (NFRA). Katie also sits on the board of City Harvest, New York's leading food rescue nonprofit, and for the past 24 years has been an active supporter of Share Our Strength, a hunger relief organization dedicated to eradicating childhood hunger.