How to Host a Backyard Hot Dog Bash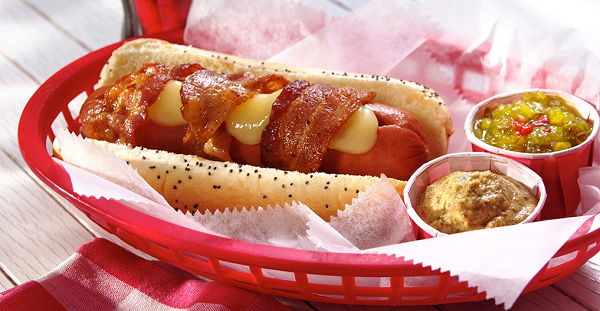 Did you know July is National Hot Dog Month? We're not at all surprised since the entire month seems to be filled with cookouts, carnivals, sporting events and fairs (all of which hot dogs are typically consumed). In celebration, we thought it'd be super fun to throw a backyard bash featuring this delicious grill staple! But, before we get into that, we wanted to do a little digging on hot dogs…
With how popular hot dogs are, have you ever thought about how many are eaten in a year[1]?
According to a recent survey by the National Hot Dog and Sausage Council, Americans purchase 350 million pounds of hot dogs at grocery stores – that's 9 billion hot dogs!

The actual number of hot dogs consumed by Americans is probably much larger since many hot dogs may be eaten at sporting events, carnivals, fairs, etc.

The Council estimates Americans consume 20 billion hot dogs a year – more than twice the retail sales figures.

That works out to about 70 hot dogs per person each year!

Hot dogs are served in 95 percent of homes in the U.S.
Before you plan your hot dog bash, let's go over the basics[2]: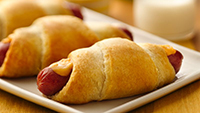 – The bread/buns: plain hot dog buns, potato hot dog rolls, Kaiser rolls, brioche, poppy seed buns, wheat rolls, pretzel rolls, etc.
– The meat: all-beef, pork, pork and beef, bratwurst, venison, turkey, chicken, veggie, cheese-filled, etc.
– The sauces: ketchup, mustard (brown, traditional yellow and Dijon), hot sauce, BBQ sauce, mayonnaise, A1 sauce, horseradish, Sriracha, etc.
– The toppings: pickles, lettuce, relish, sauerkraut, cheese, coleslaw, chili, bacon, diced onions, guacamole, jalapeño peppers, scallions, etc.
Popular styles of of hot dogs[2]: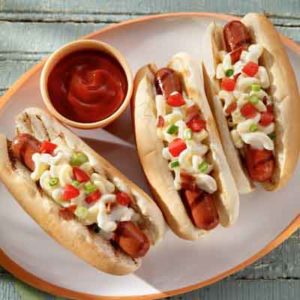 – Chicago Style: poppy seed bun + tomato + onion + pickle + relish + mustard + celery salt
– Los Angeles Style: plain bun + chili + onions + ketchup + mustard
– New York Style: plain bun + sauerkraut + mustard + sweet red onions
– Kansas City Style: sesame seed bun + sauerkraut + Swiss cheese
– Texas Style: Monterey Jack cheese + jalapeños + chunky salsa
– Atlanta Style: coleslaw
– Sonorans: bolillo roll + bacon-wrapped frank + pinto beans + tomato + onion + jalapeños + salsa verde + mustard + mayo
– Frito Dog: chili cheese + jalapeños + Fritos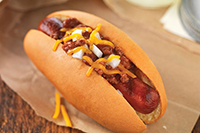 – Reuben Dog: pastrami-wrapped frank + sauerkraut + Swiss cheese + Thousand Island dressing
– BLT Dog: bacon + lettuce + tomato+ mayo
Who doesn't love a hot dog off the grill? Here are some helpful hot dog grilling tips[3]:
Before grilling a hot dog, thaw hot dogs in the refrigerator for 72 hours at an internal temp of 35 to 40 degrees.
Grill hot dogs for 6-8 minutes over medium heat.
Once hot dogs are grilled, they should be consumed within 3-5 days and kept in the fridge during this time.
Tired of boring hot dogs? Check out these jazzed up recipes:
Need a quick snack or appetizer for a party? Check these out starring hot dogs:
What's your favorite kind of hot dog? Share with us in the comments below!
[1] http://www.hot-dog.org/culture/hot-dog-fast-facts
[2] http://www.grillbeast.com/blog/lets-celebrate/cookout-king-how-to-host-a-badass-backyard-hot-dog-party/
[3] http://www.ballparkbrand.com/grill-tips