Fuel Your Summer with Dairy Aisle Favorites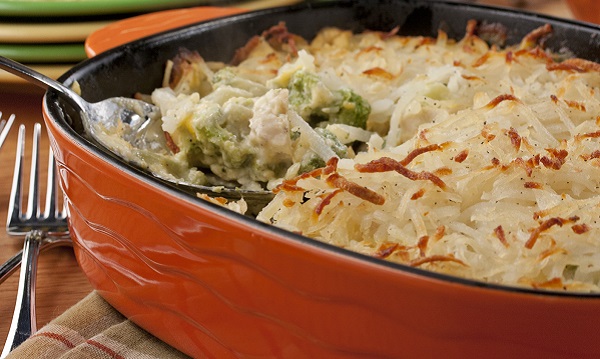 June is Dairy Month and what better way to kick off the summer season than with nutritious and portable options from the dairy aisle that will help fuel your active family? Many items in the dairy aisle help you get the recommended daily amount of calcium, as well as a protein kick.
The USDA recommends choosing low-fat or non-fat items from the Dairy Group. You can check ChooseMyPlate.gov for the number of servings from the Dairy Group you should get each day based on your age. A single serving of dairy can equal:
1 cup of milk
1 ½ ounces of hard cheese (cheddar, mozzarella, Swiss, parmesan)
2 ounces of processed cheese (American)
1 cup of yogurt
2 cups of cottage cheese
Many products in the dairy aisle are portioned as single-servings, providing easy, grab-and-go meal or snack choices, such as individual servings of yogurt, cottage cheese and cheese sticks. These single-serve items also help your family learn what an appropriate portion size is.
When you think of the dairy aisle, most likely milk, cheese and yogurt come to mind. But there are so many other tasty and nutritious items that can be found in the dairy section of your supermarket. June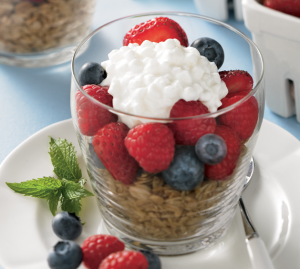 Dairy Month is the perfect time to explore all the many creative and versatile options found in the dairy case! Here are a few ideas to help keep you powered up for busy summer days.
Whip up these colorful Berry Breakfast Parfaits, which combine cottage cheese with granola, mixed berries and almonds. You can lighten up the parfaits by using low fat cottage cheese.
This Summer Superfood Smoothie Bowl will keep you cool and fueled on the sunniest days and the vanilla flax milk makes it lactose intolerant friendly.
Summer lunches often need to be quick and portable, this Panini Grilled Herbed Cheese Sandwich is a fresh take on a childhood classic that fits the bill.
For a grab-and-go, protein-packed snack, try Pesto Deviled Eggs. They also make a great appetizer for your next summer get-together.
Dinner couldn't be any easier than with this one-pan Chicken and Broccoli Hotdish. Nutritious, delicious and only one dish to wash!
To satisfy your sweet tooth, enjoy 1 cup of low fat vanilla frozen yogurt topped with your favorite fresh fruit. A 1 cup serving of frozen yogurt equals 1 cup of dairy.
From the dairy staples you know and love, to tasty treats and ingredients for your favorite dishes, the culinary possibilities in the dairy aisle are endless! As a partner of the Together Counts™ program, we encourage you to celebrate June Dairy Month by exploring some of the fresh, simple foods that offer nutritional value and convenience.
The National Frozen & Refrigerated Foods Association is a proud partner of the Healthy Weight Commitment Foundation and Together Counts. This post originally appeared on the Together Counts blog.