Discover the Cool Possibilities During June Dairy Month!
As the summer heat sets in, turn to the aisle that's beyond cool… for your snacking needs! It's June Dairy Month and we're encouraging you to "Discover the Cool Possibilities!" Forget the chip aisle, it's time to make the the dairy aisle your new snack destination.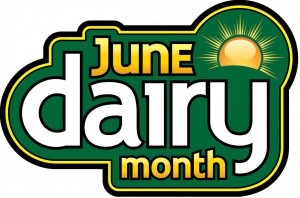 All month long, supermarkets and refrigerated food manufacturers are teaming up to offer you great deals on all the beloved refrigerated dairy aisle products that are perfect for snacking and culinary inspiration! Refrigerated foods are made from real, simple, fresh, farm-grown ingredients that taste delicious and leave everyone feeling satisfied. Find your delectable indulgences with everything from mouthwatering appetizers to decadent desserts. Discover the creative possibilities with the versatility of refrigerated foods such as Greek yogurt and even coffee creamer. Combine your favorite dairy products to make a yummy dip, or use refrigerated crescent rolls and cheese to make a mouthwatering appetizer! Make the dairy aisle your destination for snacking and culinary inspiration!
So how will you celebrate June Dairy Month? Join us in two exciting Google Hangouts (June 5th and June 12th), featuring celebrity chef and our dairy aisle expert, Aida Mollenkamp and our Cool Food Panelist, Gaby Dalkin for recipes and how-tos in the kitchen on Bakespace.com! Get culinary inspiration from Mr. Food Test Kitchen by tuning in for the special June Dairy Month show on June 5th and don't forget to test your luck by entering our June Dairy Month $10,000 Sweepstakes. When you're in need of culinary inspiration in the kitchen, check out all the recipes and meal ideas on EasyHomeMeals.com and brush up on your June Dairy Month knowledge with 30 Days of facts, ideas and tips on Pinterest!
Happy June Dairy Month!