Cheers to French Fries Day!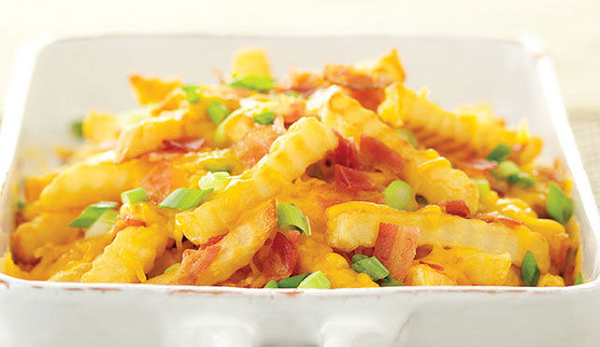 Stop what you're doing, today is National French Fries Day! Did you know that the average American consumes about 30 pounds of French fries per year[1]? In fact, Americans devour nearly 2 million tons every year[2]! But where does the French fry originate, and is the French fry even French?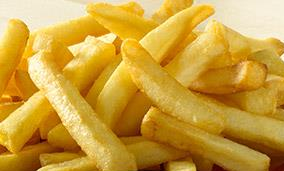 To much surprise, the French fry may not actually be French. There are claims that fries originated in Belgium, where villagers along the River Meuse traditionally ate fried fish. When the river froze during winter, the villagers fried potatoes instead. It's said that this dish was discovered by American soldiers in Belgium during World War I and, since the dominant language of southern Belgium is French, they dubbed the fries potatoes as "French" fries. However, "French fries" really were French, first sold by street vendors on Paris's Pont Neuf in the 1780s. Some even proclaim French fries may even be Spanish, since the Spaniards were the first Europeans to encounter the South American potato. [3].
So how did these addicting fried potatoes make its way to America? Thomas Jefferson, who's recognized as being the first American foodie, is generally claimed with introducing the French fry to America[3].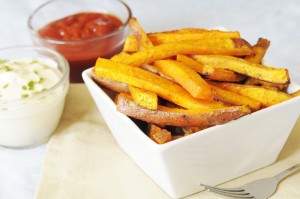 Besides the ever loved and versatile French fry, in recent years there has been a spike in popularity of sweet potato fries. Whether its the healthier attribute of sweet potatoes or the irresistible sweet and salty combination, this twist on French fries is becoming a delicious alternative.
So, if you're in the mood for fries, skip the fast food joint and instead head to your local grocery store's freezer case. Frozen French fries, such as Ore-Ida or Alexia, are pre-cooked and kicked up a notch with additional herbs and seasoning. They come in all shapes and flavors, from wedges and waffle-cut to spicy and sweet for endless mealtime possibilities.
While French fries are oh so tasty on their own, majority of people enjoy their fries dipped in condiments and/or topped with other toppings[2]:
–  Americans dunk them in ketchup
–  Brits eat their "chips" with salt and malt vinegar
–  Belgiums dip them in mayonnaise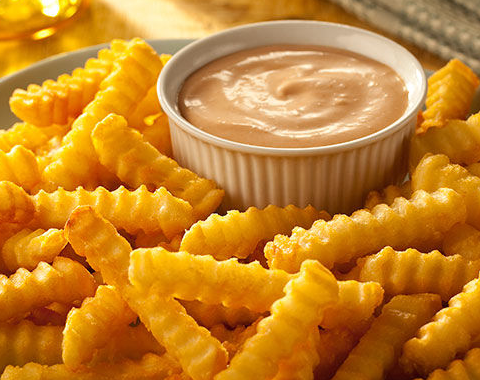 –  Vietnamese serve their fries with soft butter and a sprinkling of sugar
If plain old ketchup or mayo bore you, give these unique dipping sauces a try:
Whether plain or topped with ingredients like cheese or bacon, French fries are a hugely popular appetizer, including these favorites:
Out of tortilla chips? No problem! These Nacho Fries are like a fiesta in your mouth!
Kickin' Chili Fries are oh so easy to make and are sure to please everyone around the table!
These mouthwatering Bacon Cheese Fries taste best dipped in sour cream and/or ranch dressing.
What is your favorite way to enjoy French fries? Let us know in the comments below!
---
[1] http://farmflavor.com/fun-facts-to-celebrate-national-french-fry-day/
[2] http://www.thedailymeal.com/10-things-you-didn-t-know-about-french-fries
[3] http://theplate.nationalgeographic.com/2015/01/08/are-french-fries-truly-french/