Celebrate Frozen Food Day!
March just so happens to be National Frozen Food Month, but on March 6, it is also Frozen Food Day. In 1984 the President Ronald Reagan noted the American frozen food industry was celebrating its 54th year of service and dedicated an entire day to its accomplishments, that's over 85 years of frozen[1]!
To continue celebrating frozen foods, we wanted to take a moment this year to praise some of our frozen members that are doing cutting-edge things in the freezer aisle. From innovative packaging to new product launches and everything in between, this grocery aisle is ever-evolving and ever-expanding.
We've proud to support the widely varying and impressive initiatives of our members. Check out a few of their noteworthy accomplishments below!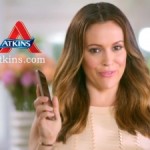 ATKINS[2]
New Spokesperson
Alyssa Milano, working mom who is committed to leading a healthier lifestyle
Reveals her success on Atkins in reaching her happy weight through a series of three television advertising spots, which is shifting the weight-loss conversation to help consumers look and feel their best through a sustainable low-carb lifestyle
DOLE
On-Trend Product Launch

Fruit & Veggie Blends[3] take the guesswork out of making a truly delicious and nutritious fruit and veggie smoothie
Each blend is a mixture of all-natural fruits and vegetables, combined to deliver the wholesome nutrition and great taste that consumers crave
New flavors, including: Orange Medley, Mango Carrot and Fruit 'n Greens
LEAN CUISINE
"Cuisine with a Purpose"[4]

Putting culinary adventure on your plates, bringing the best flavors from every corner of the world

Marketplace Product Line[5]

New flavors such as: Fiesta Grilled Chicken, Butternut Squash Ravioli and Sweet Sriracha Braised Beef

#WeighThisDietFilter[6]

Changing the "diet" conversation
LUVO
Innovative Packaging[7]:

Delta Airlines Partnership[8]:

Luvo meals are available on national flights longer than three hours, with select flights to the Caribbean, Latin America and Hawaii
SCHWAN's
Chef Collective[9]:

Partnered with chefs from top restaurants, food trucks, cookbooks and TV shows to scout for emerging ingredients, cooking methods and global cuisines
Chefs participated in a Taste Tour, which is a chef-led market and dining tour that immerses the chefs in a local and regional food scene
Introducing Better-for-You products[10]:

New products such as: Gluten-free, multi-grain breaded, grilled and ready, 100% whole-grain breaded and lightly breaded
Have you seen any interesting (and positive) frozen news lately? If so, share the article in the comments below. Happy Frozen Food Day! 😀
---
[1] http://www.cooksinfo.com/frozen-food-day
[2] https://www.atkins.com/newsroom/2016/atkins-defines-a-new-way-of-eating-with-happy-weight-advertising-campaign
[3] https://www.dolesunshine.com/en/Products/Fruit-and-Veggie-Blends
[4] https://www.leancuisine.com/about
[5] https://www.leancuisine.com/products/search?productFilters=Category_New
[6] https://www.leancuisine.com/dietfilter
[7] http://luvoinc.com/our-story/practices/innovative-packaging/#0fPooSQm6zyTAgFd.97
[8] http://luvoinc.com/partnerships/delta-air-lines/#c3soFpidbRygzy6T.97
[9] http://www.theschwanfoodcompany.com/schwans-chef-collective/default.htm
[10] http://www.tyson.com/Products/Grocery-Section/Frozen.aspx?grp=2