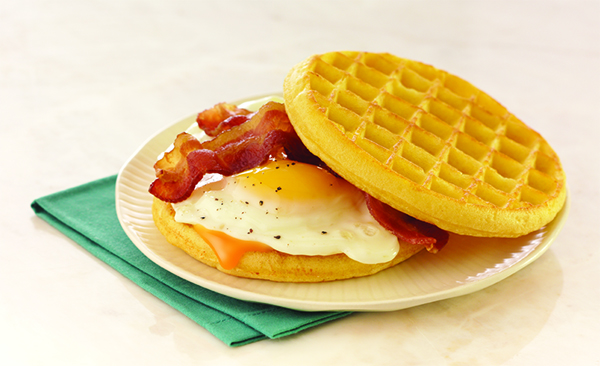 Start your day off right with a well-balanced breakfast and it is bound to be a good one! It is normal to feel rushed in the morning as everyone scrambles around to get out the door on time, simply build breakfast into your daily routine. While fixing breakfast really takes five minutes or less, which even on a busy morning isn't much time, just remember, it is not meant to be an inconvenience. Breakfast sets the tone for the entire day, and you don't want to skip your morning meal.Research reveals that the breakfast habits of Americans are more like breakfast barriers[1]:
89 percent of moms said that they want their kids to eat breakfast every day; 40 percent of moms reported that their child does not eat breakfast daily
77 percent of young children eat breakfast every day; 50 percent in the middle school years; 36 percent among high school students
54 percent of respondents stated that they would like to eat breakfast every day; 34 percent actually take time to eat a morning meal
Don't let hectic morning schedules throw you off the nutritional track—these perks pack a powerful punch with your morning meal:
Refuels your body and brain while giving you energy that lasts throughout the day
Kick-starts your metabolism
Provides valuable nutrients: vitamins, minerals and fiber
Positive link between breakfast, mental alertness and physical performance
Try a few new creations to get the family going during the week:
Or, head to the frozen food section at the grocery store to stock up on grab-and-go breakfast options, like a nutritional flatbread sandwich or waffle bites.
Finally, take a few tips from Mr. Food Test Kitchen on making breakfast the best meal of the day!
About Kellogg Company
With 2013 sales of $14.8 billion and more than 1,600 foods, Kellogg Company is the world's leading cereal company; second largest producer of cookies, crackers and savory snacks; and a leading North American frozen foods company. Kellogg's is a member of the National Frozen and Refrigerated Food Association, and some parts of this post originally appeared on The Power of Breakfast/Breakfast in America.

---
[1] http://www.kelloggs.com/en_US/the-power-of-breakfast/breakfast-in-america.html