8 Simple Ways to Healthfully Transform Leftovers Using Frozen Foods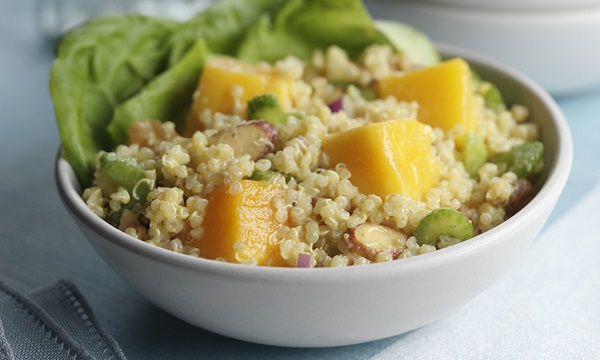 Eating healthfully means so many things. It's choosing nutritious foods, of course, but it's also making sure those choices are practical for your lifestyle. It's cooking more at home, and it's also enjoying those home-cooked meals more often around the table with your family. As part of the Together Counts™ program for healthy, active living, we know that when time and budgets are tight, it can sometimes seem especially difficult to keep to healthy eating goals, but the good news is there are lots of strategies you can employ to make it easy.
March is National Frozen Food Month, so we've decided to focus on one of the simplest ways to eat well all year round – shopping the freezer aisle for convenient, wholesome products that extend any
type of leftover in minutes. The versatility of the frozen food section gives you a range of options to pair with any leftover, helping you whip up high-quality, low-stress meals that save you time and money by avoiding throwing away unused ingredients from days past.
Especially during March Frozen Food Month, get creative with the range of options in the freezer aisle! To get you started, here are eight great ideas for pairing leftover items with frozen foods that are conveniently prepared and ready to use:
Last night's chicken or turkey can easily turn into a stew or soup with the addition of frozen vegetables like corn, peas or pearl onions. As one tasty example, the frozen ingredients in this Fiesta Party Soup make meal assembly a breeze.
Made too much spaghetti? Sauté a garlic clove in oil, in a wok. Add whatever frozen veggies you have on hand to the wok, and sauté. Add the leftover spaghetti, and stir-fry to heat thoroughly. Toss with low sodium soy sauce, and enjoy!
Had a steak dinner, and need to jazz it up a day later? Slice the steak into strips, and heat up a bag of frozen, brown rice with a handful of frozen peppers (red and green). Warm up some whole grain tortillas for a well-balanced meal of steak fajitas.
Only have a spoonful of veggies left? Make them last a little longer by mixing with frozen veggie variety. Add them into all your dishes – frittatas, salads, casseroles, pastas – throughout the week.
Quinoa is such a versatile meal base, so the leftovers can go a long way! Make a hearty salad for tomorrow's lunch by adding frozen fruit such as strawberries and peaches. For a tropical punch, try this Quinoa Salad with Mango Chunks.
If you had a party and now have extra burger patties, you can turn it into barbecue! Crumble the burgers, and heat with BBQ sauce. Grab on-hand mini whole-grain rolls from the freezer, and turn them into BBQ sliders for a fun snack.
Have an abundance of mashed potatoes left over? Make Shepherd's Pie with ground beef and frozen vegetables like carrots, peas and corn!
Turn last night's side salad into tonight's dinner. Heat up your favorite frozen chicken strips—classic, honey BBQ, buffalo—and toss with the salad.
How do you transform your leftovers? Let us know in the comments below!
This post originally appeared on www.TogetherCounts.org.