7 Boozy Ice Cream Recipes That Will Make Your Summer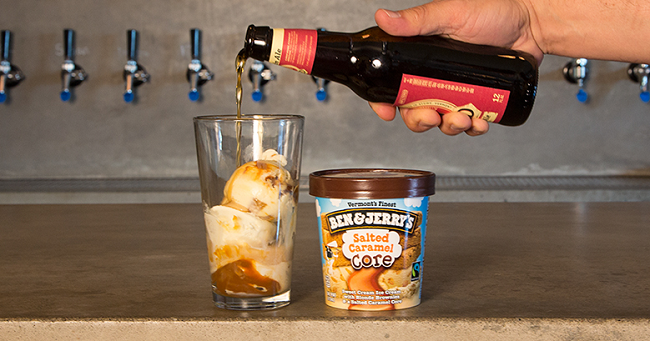 In honor of National Ice Cream Month and especially since today is National Ice Cream Soda Day, we thought it was perfect timing to share these booze-infused ice cream beverages from our friends at Ben & Jerry's!

Summer is here! We've been waiting months and months for this – sunshine, shorts, sandals, backyard barbecues…and, of course, the most perfectest time of year to enjoy your favorite Ben & Jerry's flavors.
Don't get us wrong, there's no bad time to dive headfirst into a bowl of The Tonight Dough. But there's something extra special about enjoying a cold bowl of ice cream when it's a cool retreat from the summer heat. This season, we'll be staying cool with a few extra special ice cream recipes created by our Flavor Gurus – and by "extra special", we mean just for grown-ups*.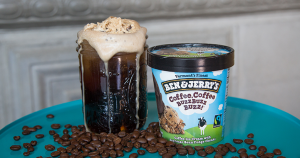 We've always said that coffee and ice cream are a match made in heaven. Perfect for an after dinner pick-me-up, this treat combines all the fun of a float with all the pizzazz of coffee and Kahlua. Recipe here.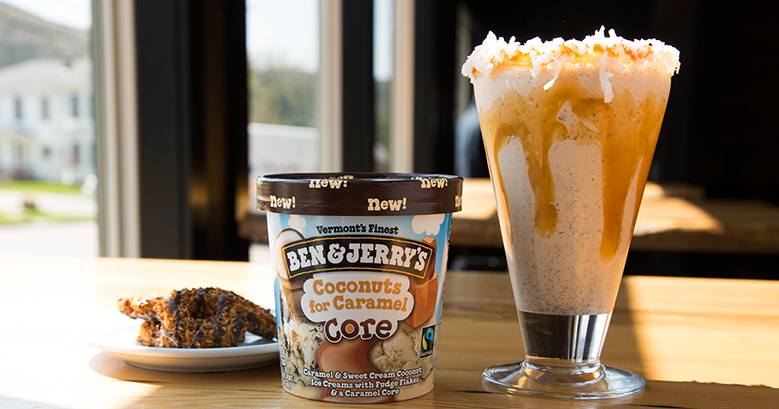 Looking for a tropical vacation in a glass? This shake has it all: coconut, rum, caramel, and a stunning beachside sunset. Except not that last one, that would be impossible. Recipe here.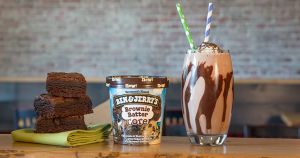 For brownie lovers, this drink is the pinnacle of chocolate brownie euphoria. Go for it: climb to the pinnacle, take in the view. We guarantee it's nothing but brownies as far as the eye can see. Recipe here.
Blondie Brown-ie Ale Pour-Over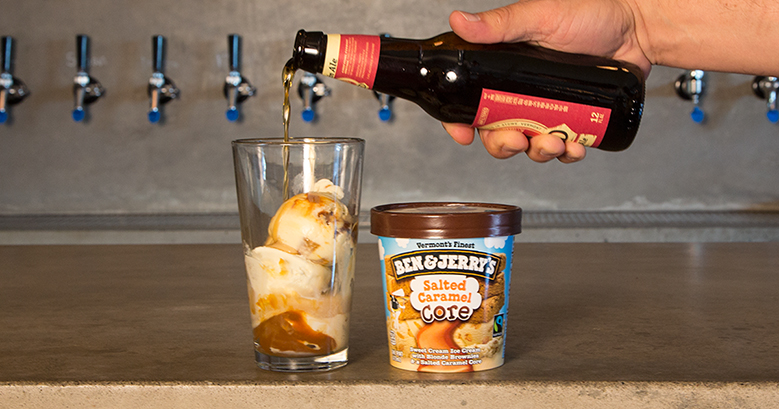 Not to brag, but here in Vermont, we have more craft breweries per capita than any other state. That means that we take our brews pretty seriously. Sometimes we even pair them with our other favorite thing: ice cream (duh). Recipe here.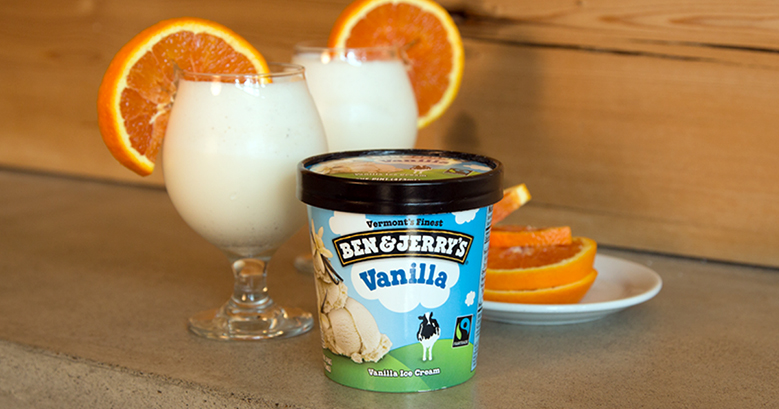 Light, citrusy, and perfect for warm summer nights, this milkshake is tailor-made for watching the sunset with your special someone. After all, you'll need someone there to hold your hand if you get an ice cream headache. Recipe here.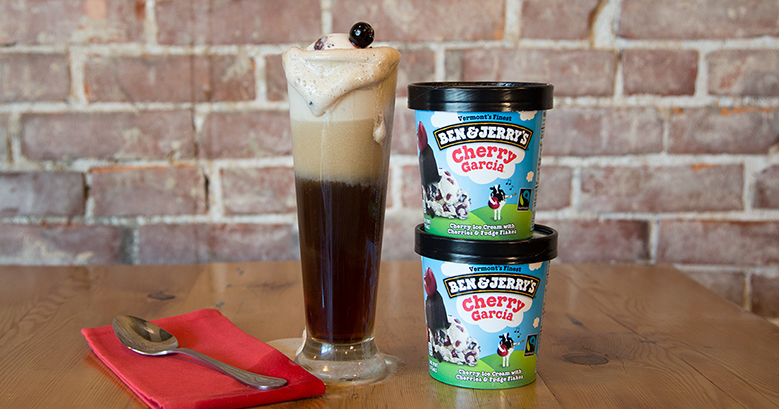 We like to think even the rock legend himself would think this is a pretty groovy way to enjoy Cherry Garcia. Pop on your favorite record, and float away down the golden road. Recipe here.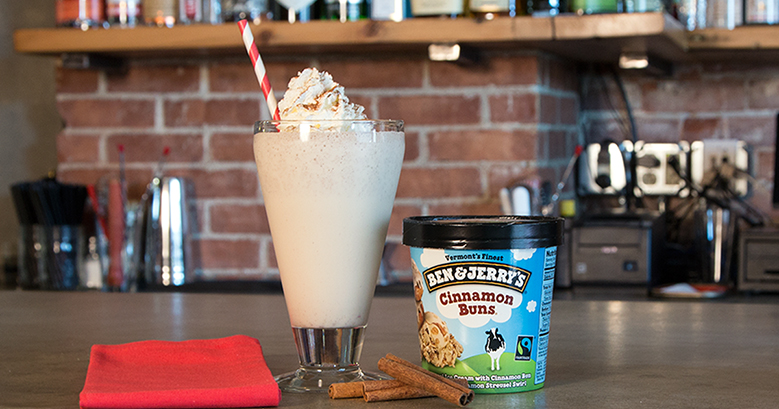 Cinnamon Buns is always the flavor we turn to when we need comfort food. Sweet and cinnamon-y, it's just like Mom's fresh-out-of-the-oven version. Blend it up with your favorite spiced rum and you've got the perfect summer comfort shake. Recipe here.
*Not intended for consumers under 21. Please drink responsibly.
---
About Ben & Jerry's
As a social justice company, Ben & Jerry's believes in a greater calling than simply making a profit. Ben & Jerry's incorporates Linked Prosperity into its business practices in a number of ways including a focus on values-led sourcing. The company produces a wide variety of super-premium ice cream, non-dairy frozen dessert, yogurt and sorbet using high-quality, responsibly sourced ingredients. Ben & Jerry's, a Vermont corporation and wholly-owned subsidiary of Unilever, operates its business on a three-part Mission Statement emphasizing product quality, economic reward and a commitment to the community and became a certified B Corp (Benefit Corporation) in 2012. Ben & Jerry's products are distributed in over 35 countries in retail, franchised Ben & Jerry's Scoop Shops, restaurants and other venues. The Ben & Jerry's Foundation's employee-led grant programs totaled $2.4MM in 2015 to support efforts to improve social and environmental justice throughout the United States. For the inside scoop on Ben & Jerry's visit www.benjerry.com.
About Unilever North America
Unilever is one of the world's leading suppliers of Food, Home and Personal Care products with sales in more than 190 countries and reaching 2 billion consumers a day. In the United States and Canada, the portfolio includes brand icons such as: Axe, Becel, Ben & Jerry's, Breyers, Clear Scalp & Hair Therapy, Degree, Dove personal care products, Fruttare, Hellmann's, Klondike, Knorr, Lipton, Magnum, Nexxus, Noxzema, Pond's, Popsicle, Q-tips, Simple, St. Ives, TRESemmé and Vaseline. All of the preceding brand names are trademarks or registered trademarks of the Unilever Group of Companies. Unilever employs approximately 9,500 people across North America – generating more than $9.5 billion in sales in 2015.
Ben & Jerry's is a member of the National Frozen and Refrigerated Food Association, and this post originally appeared on the Ben & Jerry's website.