17 Saint Patrick's Day Inspired Recipes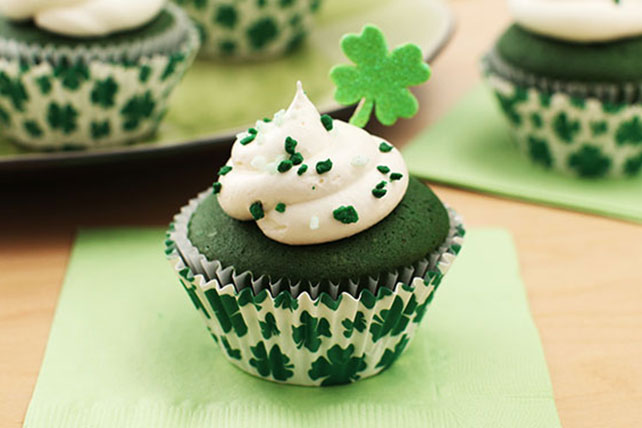 We're here to help you celebrate Saint Patrick's Day with the best Irish food using recipes that won't take a ton of time. From the traditional to the festive, these St. Paddy's-inspired dishes will have your friends green with envy!
Known in Ireland as Boxty, these Irish Potato Pancakes are made even better with a little bacon.
The "Luck o' the Irish" will be with you when you serve these adorable Shamrock Rolls.
Tasty Green Velvet Cupcakes are perfect for sharing at your St. Paddy's celebration.
A delish Shephard's Pie is a must-make dinner when your next comfort food craving hits.
Cabbage Mashed Potatoes is centuries-old side dish that gets its great flavor from shredded cabbage and onions.
A steaming Irish Stew will fill even the hungriest bellies with hearty meat, potatoes and vegetables.
A nip of Irish cream liqueur and pecan crust make this Bit-of-Irish Cheesecake a crowd-pleaser.
Celebrate St. Paddy's Day with a Kale Salad and Gyro Slider that is rich nutrients and protein.
Whip up this super Fried Cabbage side dish in no time with only five ingredients (including bacon)!
This round quick bread recipe made with buttermilk and currants or raisins is a new take on traditional Irish Soda Bread.
When in Ireland, these Pub Fries are called 'chips' and often served with malt vinegar.
For Saint Patrick's Day or any day, these Irish Crème Cupcakes make a sweet celebration.
Cream cheese and milk help give this Irish Potato Soup with Leeks its super creamy texture.
These easy-to-make Champ Potatoes get their Irish influence from flavorful scallions in every bite.
Serve Corned Beef and Cabbage on Saint Patrick's Day for a traditional Irish dinner.
Try something new, and make delicious and easy Irish Nachos for your next family gathering.
This Irish Potato Candy is a sweet treat that doesn't contain potatoes at all, they just look like them!
What tasty dish will you make to celebrate Saint Patrick's Day? Share your favorites with us on social media @EasyHomeMeals!