15 National Donut Day Recipes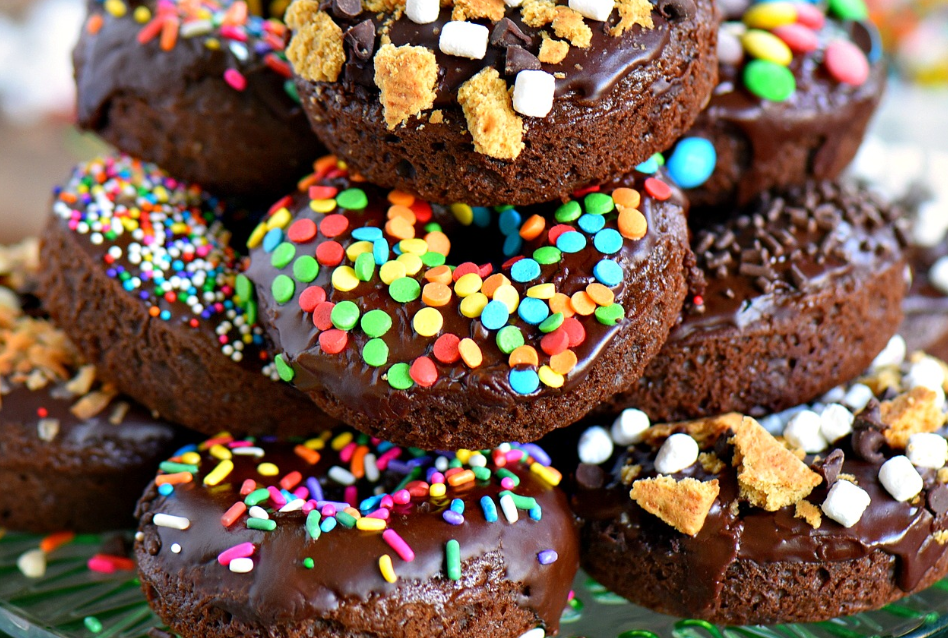 National Donut Day is celebrated every year on the first Friday of June. It was established in 1938 by the Salvation Army to honor the Donut Lassies — the women who served donuts to soldiers during World War I to raise moral.[1] There are a lot of theories and speculation about why donuts have a hole in the middle. The most practical reason is so the inside and outside cook evenly. To celebrate, we're serving up 15 sweet recipes that will have you second-guessing the donut shop.
As tasty as they are adorable, Mini Chocolate Donuts are a sweet treat celebration.
The two favorite flavors in Baked Banana Chocolate Chip Donuts are combined into one delicious indulgence.
If you love a traditional cake donut, these Baked Sour Cream Donuts can be glazed, sugared or sprinkled.
Donut Mug Cake has the taste of a donut, but it's baked quick and easy in a microwavable mug.
Sweet meets savory in this deliciously stacked Donut Breakfast Sandwiches
For breakfast, brunch or dessert, Puff Pastry Donuts will wow your whole crowd.
An added flavor boost of caramel gives these bite-sized Mini Churro Donut Holes that great fair food taste.
No mixing is required when you make these Ready-Dough Donuts.
A freshly made donut stuffed with ice cream?! You'll have a Yankee Doodle good time with Star-Spangled Ice Cream-Stuffed Donuts.
A quick glaze of powdered sugar and milk turns these Glazed Waffle Donuts into a fun and easy treat.
These sweetly spiced Cinnamon Donut Muffins taste just like freshly made donuts.
If you don't like to measure your dry ingredients, take a shortcut and make Cake Mix Donuts with Chocolate Glaze.
Make it mess-free! Put Donut Hole Pops on a stick and cover with colorful jimmies.
For breakfast, brunch or dessert, Puff Pastry Donuts will wow your whole crowd.
If you like your sweets very vanilla, these Vanilla Cream-Filled Donuts will be a fave!
What are your favorite fillings, toppings or donut styles? Share with us on social media at @EasyHomeMeals. Happy Donut Day!
[1] https://www.yahoo.com/finance/news/national-donut-day-2019-free-165254950.html