Wild for Waffles during National Waffle Week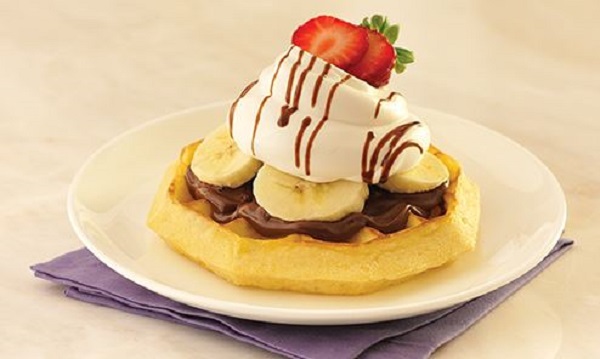 We've seen them on restaurant menus ever since we can remember and as mainstay weekend brunch options, but WAFFLES are having a culinary moment! These crispy and fluffy pieces of goodness with tender, chewy middles are easy and reliable while also capable of being wildly inventive. In honor of National Waffle Week let's celebrate one of our favorite dishes beyond the breakfast table! From morning to night, the flavors and textures of waffles transform themselves and are just as great when simply drizzled with maple syrup as they are topped with fried chicken for a Southern classic.
Waffles are a tried and true classic dish in America and also loved across the globe. It all started with a Belgian culinary specialty, known as batter-based flat cakes[1] with countries around the world following suit and perfecting their own waffle creations[1]:
American waffle: Leavened with baking powder, these vary from sweet to savory and are also used as the base for various entrees.
Belgian/Brussels waffle: Referred to as a Belgian waffle in America but a Brussels waffle in Belgium, these are light, crisp with deep "honeycomb" pockets served as dessert. Or, there is the "liege," a smaller, sweeter and heavier
handheld snack served like a donut.
Hong Kong waffle: Served as street food, these are round and topped with peanut butter and sugar.
Norwegian waffle: Referred to as Krumkake, this is a waffle cookie traditionally made during the holidays, specifically Christmas.
Waffles are the perfect culinary vehicle for creative possibilities because you can top, fold or mix them with just about anything! Let your imagination run wild and choose from an assortment of accompaniments: chocolate chips, lemon curd, ice cream, blueberries, yogurt, apples and cheddar cheese, coconut flakes, a fried egg, spicy chili, caramelized bananas, ricotta cheese or anything else you have on hand.
Next time you are craving a waffle, head straight for the freezer! Pop a frozen waffle into the toaster or microwave and within minutes you will have a drool-worthy waffle that is ready to be topped and paired with whatever your heart desires. Take a look at these variations on a sandwich and you'll look at waffles in a whole new light:
If you can't decide between waffles or French toast for breakfast, settle the debate with these delicious French Toast Waffles!
Pack a surprise lunch with a Strawberry Cheese Wafflewich that highlights sweet and savory flavors between whole-grain waffles—customize with your favorite cheese and fruit jam.
A grown-up and fancy sandwich version—The Caprese pairs frozen waffles with fresh tomatoes, basil and mozzarella cheese all drizzled in balsamic vinegar.
As we said before, waffles are ideal from noon-night and all ages can enjoy this food with its customization factor. Here are a few recipes that all family members will ask for again and again:
Looking for back-to-school menu inspiration? Check out Cooking with Caitlin and her ability to play up the versatility of waffles—no dull waffles here!
Unleash the power of the waffle and serve Cheese 'N Mushroom Waffle Wedges for dinner that are hearty and filling but can be modified with chicken or tofu.
Round out your day with a delectable dessert that is almost too pretty to eat—Chocolate-Hazelnut Banana Bliss screams indulgence and is topped with fresh strawberry slices!
In honor of National Waffle Week, what's your favorite version— simple stack with syrup, sandwiched with ice cream, topped with berries or paired with fried chicken?
---
[1] http://www.thenibble.com/reviews/main/cereals/waffle-history.asp