We All Scream for Ice Cream Memories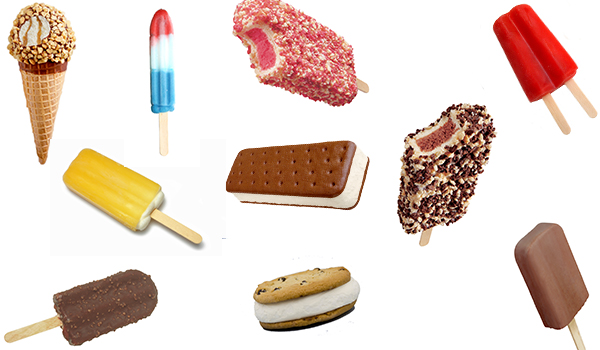 Sadly, National Ice Cream Month is coming to an end 🙁 And so, to wrap things up the Easy Home Meals team wanted to share some of our favorite ice cream memories!
~Julie:
Growing up on a farm, my dad was always a busy man with not a lot of free family time. But one of the things we did together was making ice cream for the church social and family reunion. Back in the olden days, we went to the ice house to buy a big block of ice that you broke apart with a chisel. I always insisted on going along to buy the ice. I thought it was the coolest thing to put your coins in the slot and watch the big blocks come down the chute – like a soda machine for ice. With our ice and salt in hand, we'd spend the next couple hours watching the ice cream maker churn away.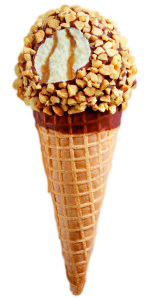 My dad's been gone since I was in college, and I never tried making ice cream by myself. With my own son, I took the easy way out and waited for the ice cream truck to come around. Not quite the same as making it yourself, but something to look forward to just the same. My son's favorite treat back then was the "Nutty Buddy." Not much has changed. The ice cream truck no longer visits our neighborhood, but you can almost always find Blue Bunny Champ! cones in our freezer. Maybe I'll bring back the lost art of making ice cream with my grandchildren (many, many years from now). The ice house is gone now, so it will have lost some of its charm. Or…I can just make sure my freezer is always stocked!
~Roxanne: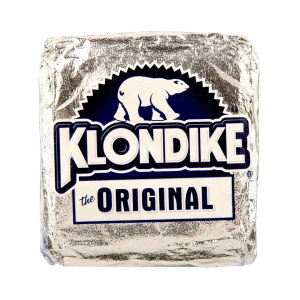 While I have gotten better at resisting it over the years, I absolutely love ice cream. Whether it's a bowl of mint chocolate chip before bed (sorry I'm not sorry), warm brownies a la mode, fresh strawberries or peaches on top of vanilla ice cream or a hot fudge sundae, I just can't get enough. I can't help it though, my entire family is made up of ice cream connoisseurs, so it's clearly in my genes. 😉 Year-round, besides numerous of cartons of ice cream, you'll also find Klondike Bars stocked in our freezer.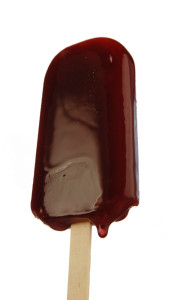 Besides Klondike Bars, I really do enjoy all types of ice cream novelties, especially strawberry shortcake eclairs, creamsicles and fudge bars. Fudge bars, or fudge-cicles remind me of the beach I go to every summer, Wildwood, New Jersey. But to me, they're not fudge bars or fudge-cicles, they're "Fudgy Wudgies." If you've visited Wildwood, then you have probably heard or seen the older men pushing the ice cream carts across the sand selling ice cream novelties. For over 25 years I have heard the familiar "Ice cream, ice cold ice cream, Fudgy Wudgy here, ice cream" saying. And ever since I was little the Fudgy Wudgy was usually my go-to ice cream novelty on the beach—no matter how fast it melted!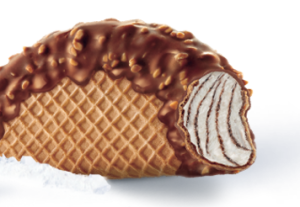 Over the years though, I have expanded my ice cream on the beach palate to Choco Tacos, Strawberry Fruit Bars (when I'm trying to be healthy) and Chocolate Chip Ice Cream Sandwiches (I'm obsessed with ChipWiches). But, Fudgy Wudgies will forever have a special place in my heart.
~Natalie: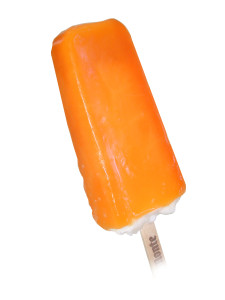 I have to admit, I'm not one to go absolutely nuts over ice cream. But when the weather's hot and I'm craving a sweet treat, I have a few favorites that always satisfy that hankering. Now my parents are ice-cream-aholics who always had ice cream novelties on-hand when I was a kid. My absolute favorite indulgent ice cream item was a Creamsicle bar. The dreamy, hint of orange and vanilla flavor is always so delicious! Another personal favorite as a kid was push pops – they're fun and even tastier to eat!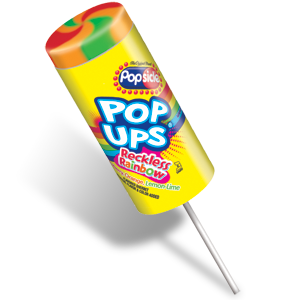 It's a joke within my family that if you're a "Markle" (our last name), you were automatically born with a sweet tooth. Maybe this goes back even further, but I think it starts with my wholehearted, enormously sweet Grandma. She's always stocked with signature treats I can count on her offering up when we visit – ones you can't deny because they're just that good. And because who could say no to her?!
Especially in the summertime, Grandma is at the ready with a big ol' family size bucket of Blue Bunny vanilla ice cream in her freezer. Her first go-to vanilla ice cream complement is local strawberries. We used to use the ones my grandpa grew on the side of their house! My other favorite is her "dusty road sundae", which is simply vanilla ice cream topped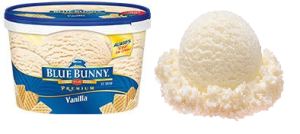 with malted milk powder and chocolate syrup. If you've never had one, you need to try it this summer – better yet as soon as possible because today is the last day of Ice Cream Month! There are an endless number of ice cream and novelty treats available today, but when I think of ice cream month, these few I mentioned are the ones that stand out as much-loved favorites for me:)
Now that we've dished, we want to hear your own favorite memories involving ice cream or ice cream novelties! Share with us in the comments below. 🙂