Top Ten "Tips" for Successful and Healthy Family Mealtimes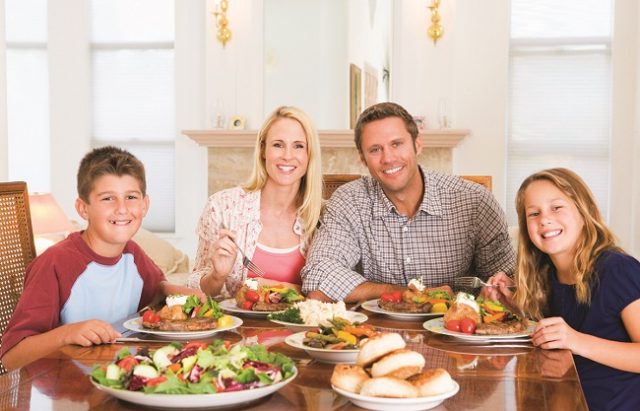 Happy Healthy Kids Day! It's the perfect time to make small changes in your family mealtimes that will have a positive impact on your children's health now and for a lifetime. As a mom of two young kids and the founder of Mom Made Foods, I get it…It's hard to feed our kids three meals a day that are healthy (not to mention snacks!), 365 days a year! Here are my top ten guidelines for successful and healthy mealtimes with your kids:
Sit down and take your time to eat and drink. Keep a distraction-free eating area – no T.V., toys, etc.
Provide a balance and variety of foods to keep kids satisfied. A healthy, balanced diet for children provides essential vitamins, minerals, etc that kids need for healthy growth and development.
Keep meal and snack times consistent and regular. Even on the busiest days, keep the same schedule for your kids. For example, on the evenings my son has soccer at 6pm, I make an organic Mom Made Cheese Pizza Munchie at 5:30pm.
Eat together at the table.  Model good food habits and table manners for kids. They will follow.
Empower your children from a young age to make healthy choices about the foods they eat. Give them safe, healthy options, i.e. "We have carrots and broccoli in our fridge, which one should we serve for dinner?" Or take your kids grocery shopping and let them pick the fruits and vegetables for the meals.
Educate your kids by sprouting a seed or even growing a tomato plant to help your child appreciate the fun in growing fruits and vegetables.
Don't pressure your child to eat – this will backfire! Trying to get a child to eat more than she wants makes her eat less and makes it extremely stressful for the child.
Try introducing veggies in a new ways,  e.g. include them as part of a soup, dipped in a sauce, cut them in different ways or mixing them into a meal like Mom Made's Cheesy Mac that contains peas and butternut squash puree.
Set limits on age appropriate behavior at the table and stick to your boundaries.  Limits help prevent bigger problems down the road and teach discipline.
Have fun! The less you stress at mealtimes, the more fun all of you will have as a family together!
About Heather Stouffer: Heather launched Mom Made Foods in 2006 at a local farmers market, when as a new mother, she saw a huge need for healthy, convenient, organic and all natural options for kids. Mom Made products are now sold nation-wide in grocery store freezer aisles.
To find out more about Mom Made Foods, visit:
Website: www.mommadefoods.com
Blog: www.blog.mommadefoods.com
Facebook: www.facebook.com/MomMadeFoods
Twitter:www.twitter.com/mommadefoods
Pinterst: www.pinterest.com/mommadefoods
Mom Made Foods is a member of the National Frozen and Refrigerated Food Association.