The Real Cost of Food Waste
Did you know the average family throws out $2,000 in food every year? Yikes! That's more than just not cleaning your plate. We've all done it no matter how hard we try…thrown out food that has gone to waste. The fruit that goes bad before you can eat it. The bread that gets stale before the loaf is gone. The leftovers that never get eaten. In the U.S., more food reaches landfills than any other single material, accounting for over 20 percent by weight[1].
It's a bigger, more far-reaching problem than you may think. An estimated 50 million Americans do not have access to enough food. Yet in 2010, an estimated 133 billion pounds of food from retail food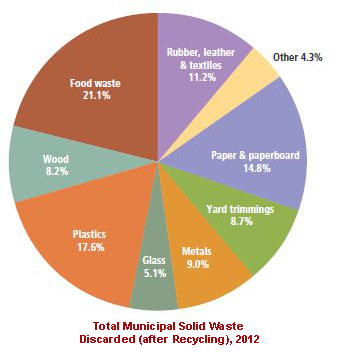 stores, restaurants, and homes—valued at approximately $161 billion—went uneaten. (USDA) Thirty percent of grocery shoppers acknowledge that their household wastes more than it should, but 78 percent admit to throwing away food in the past 6 months. The Daily Meal puts the problem in perspective with these 10 Mind-Blowing Facts about Food Waste.
So how can we make better use of the food we buy, and how can we divert food waste from the landfill? Here are a few simple tips to get you started:
Sometimes, you just can't eat that food before it spoils. Before you toss it in the trash can, consider composting if you have the means. While food contributes significantly to America's trash, only five percent of food waste gets diverted from the landfill by composting. Find out more about composting at home.
The organization behind our very own Easy Home Meals, the National Frozen & Refrigerated Foods Association (NFRA), recently joined the USDA Food Waste Challenge pledging to provide waste reduction strategies that the average family can easily implement. We're committed to helping solve this problem.
Watch our blog for more ideas on how you can save money, save food and reduce waste. Tell us how you prevent food waste in your home!
[
1
] 
http://www.epa.gov/osw/nonhaz/municipal/msw99.htm