The Easy Home Meals Team Dishes on their Fall Favorites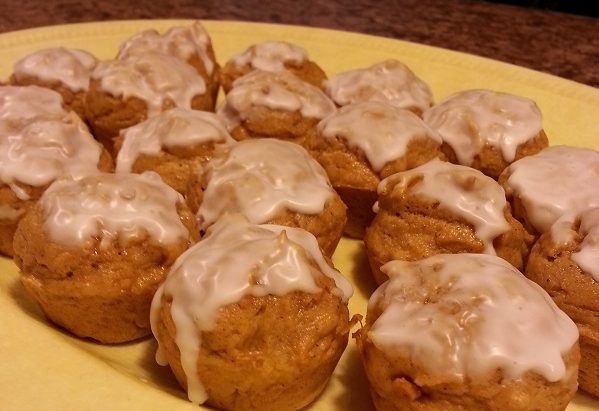 Between pumpkin carving and apple picking, going on hayrides and walking through corn maizes and getting ready for trick-or-treating and Halloween parties, the busy fall season is upon us! Whether you're watching football or visiting with family, we know how important the food is and the experiences and memories that accompany it. The Easy Home Meals team wanted to share our own fall favorites.
~Julie:
This fall is a little different for me as my son comes home from college on fall break. I haven't seen him in over two months. It'll be interesting to see how he's changed. I know there's no chance of the "Freshman 15" because he's a workout nut (which he definitely did not get from me). While the food at college is good, it's getting monotonous. I've already been to the grocery store stocking up on his favorites. It's the tried and true recipes and comfort foods that are reminders of home that he's craving, though.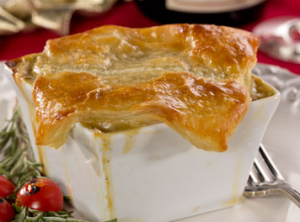 He once said you could build a restaurant around my meatloaf. (Those are the gems that you keep forever.) He's also crazy for chili, baked beans and chocolate chip cookies. Check! But on a little bit lighter side, we both love this Chicken Pot Pie recipe that I got from my friends at the Mr. Food Test Kitchen.
I use all frozen veggies to cut down on my chopping time. Plus I'm not a very neat cook, so the less peels and stalks left over the better. Sometimes I'll also bake it in an actual pie shell using Pillsbury's refrigerated pie crust. The recipe calls for white wine. I'm obsessed with trying different varieties of Sauvignon Blanc from New Zealand. And in this recipe, the tartness of the wine combined with the thyme is out of this world!
When my son left for college, I was looking forward to making all the foods that he never liked – broccoli, fish and meatless spaghetti. Now that he's coming home, I can't wait to have a real conversation with him for a change. (FYI, boys don't call their mothers.) But, now I'm also looking forward to making all those foods that I stopped making because it was too much for one person. So if you'll excuse me, I have a date with a Chicken Pot Pie (and my son)!
~Roxanne:
While I'm seriously missing the beach, high temperatures and frozen fruity cocktails, I guess it's about time I let go of summer and accept that it's fall. When it comes to the autumn season, I'm completely obsessed with everything pumpkin flavored (shocking, right?). Pumpkin spice coffee, pumpkin spice coffee creamer, pumpkin pie, pumpkin cookies, pumpkin funnel cake—you name it, I just love it all! But what my absolute favorite pumpkin treat is is pumpkin bread—especially my mom's! I don't know if it's because she only makes it once a year, or if it's that good.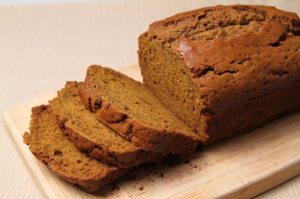 While I'm pretty savvy when it comes to baking delicious cheesecakes, cupcakes, cakes and other desserts, my mom's pies, chocolate chip cookies and her pumpkin bread especially cannot be beat! Her pumpkin bread is so yummy that I've become pretty picky and am not a huge fan of other people's bread. I don't know if it's the specific recipe she uses or if she just has the magic touch 😉 . I really hope one day she'll start making it more than once a year (fingers crossed!).
While I do have a slight huge sweet tooth and pumpkin love affair, there's nothing better than something warm and savory when the brisk fall temperatures creep in. One of my favorite foods during the autumn season is definitely chili. It's nothing too extravagant—just ground beef and lots of kidney beans and chili beans. Maybe one day I'll step outside the box and throw in some frozen corn, peppers and maybe even zucchini. (Okay, let's not get ahead of ourselves!) Of course, I just have to top my chili with a TON of shredded Mexican cheese. Mmm, Happy Fall!
~Natalie:
This time of the year especially is when tasty comfort foods and fall favorites come out in full force. With the holidays right around the corner, everyone is getting together with family and making hearty meals to warm up with during the cool weather. It's hard for me to choose just one "fall favorite" dish or flavor, but I am loving the all-things-pumpkin trend!
Something else I love each year is Thanksgiving day at my aunt's house. It's always been a pot luck-type event, where everyone is responsible for bringing an item. It's become a trend though, that everyone brings their signature (and the family's favorite) dish. The hosts of the party are in charge of the turkey and corn. One couple brings their famous "real" scalloped potatoes and my cousin

brings homemade mac and cheese with rotini pasta. My mom brings her green bean, onion and cranberry dish, while my aunt brings her to-die-for pineapple stuffing. I'll admit they're pretty much all my "fall favorites."
You can't forget about dessert though! My grandma always make a pumpkin and/or cherry pie, and I bring a dessert too. This year I've been experimenting with new sweet treats. On trend with the pumpkin craze, I recently made Pumpkin Spice Muffins with Maple Glaze. Sounds amazing right? The recipe uses BAILEYS Pumpkin Spice Coffee Creamer for that rich pumpkin flavor. After its trial run, the muffins passed the test and will definitely be one of this year's Thanksgiving desserts! I don't know about you, but I can't wait for the fall season to continue on, with lots of family, food, flavors, and fun (in the kitchen!).
~Judy:
When I think of food and the fall season– I'm reminded of football weekends when our children were in high school.Our daughter was on the tennis team and always involved in planning homecoming and other fall celebrations…and there were continuous groups of kids at our home for meetings, sleepovers and parties. Our son played football – and that meant we had to be prepared to cook big quantities of food at all times—especially since many of his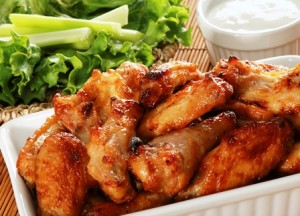 teammates ended up at our house after the game, after practice, to play Madden on Xbox or to watch their favorite college and pro games over the weekend.
Thank goodness we had a big freezer! The favorites were Tyson hot wings, Jose Ole taquitos and multiple varieties of frozen pizza – (like DiGiorno, Red Baron, Freschetta and Tombstone).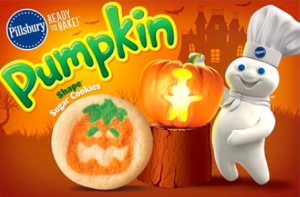 The kids loved our "cooking" and loved being at our home – which we enjoyed so much as well (and it was vey nice knowing where our children were 🙂 ).
On a sweet note – we also always kept Pillsbury cookie dough on-hand in the refrigerator. The smell of my "freshly baked cookies" when the kids came in from school or a game was a hit with all.
 Now that we've shared our own fall favorites, we want to hear from you! Do you share the same adoration for pumpkin-flavored treats? Are you a huge apple-flavored lover? Share with us in the comments below!