Take a Trip Around the World in the Freezer Aisle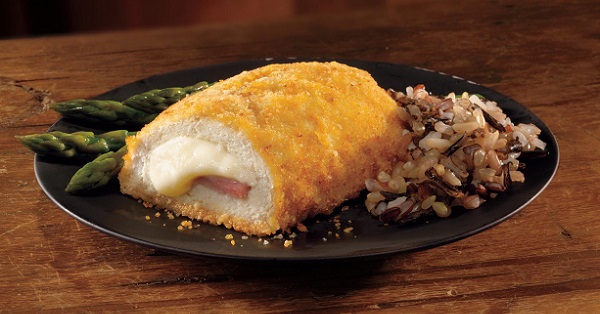 Get your taste buds ready to explore the best worldly cuisine with Katie Workman…right in the "cool" aisles of the grocery store!
I feel like I'm always battling little twinges of envy when I hear about people who fit more recreational travel into their lives.  My mom just back from the Amazon, my sister and her family just returned from Thailand, my neighbor works for a fancy hotel chain and I can't even keep up with where she's coming from and going to.
But envy is not my desired state of being, and so even though I don't travel the world as much as I'd like, I spend a lot of time experimenting with different kinds of cooking.  There is no better, or easier, way to get a (literal) taste of another culture and place than to cook their food.  And, the frozen food manufacturers have definitely risen to this desire, realizing that many of us have a craving for a variety of ethnic cuisines.  Maybe they are foods we grew up with somewhere else, maybe they are dishes we've been longing to try; whatever the case, there's a lot of wholesome and creatively flavorful options in the freezer aisle these days.

I stopped in at my local ACME Market to do a little virtual international traveling in their freezer aisle, and I came away with a basketful of convenient, pre-prepped items that will satisfy my wanderlust for the time being.  There were definitely some brands and items I had never seen before (and I'm a girl who knows her freezer aisles!), and so it reminds me that something new is always just around the corner. And with March being National Frozen Food Month, now is the time to stock up on all the great frozen products ACME has on sale.
Amy's Thai Stir Fry – I didn't get to Thailand this year, but my kids love the flavors, so this is definitely going to be dinner one night this week.  It includes delicate Jasmine rice, tofu and a jumble of organic vegetables, covered with a smooth, coconut milk-based sauce.
Barber Food Chicken Cordon Bleu – And we stroll over to the Swiss Alps, in the form of Chicken Cordon Bleu.  Savory ham with a blend of cheeses fill a tender chicken breast coated with home-style breading. Did you know Cordon Bleu is French for Blue Ribbon?  Neither did I.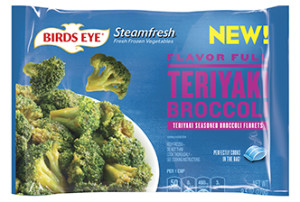 Bird's Eye Teriyaki Broccoli – My family is nuts about all Asian dishes, and I definitely have noticed that one way to make vegetables more attractive to pickier eaters is to incorporate those types of flavors and seasonings.  This would be a great way to kick off a stir-fry dinner recipe.
Evol Street Tacos – Korean Style Beef and Kimchi – Seasoned travelers know that the best food can be found from street vendors, little stands offering a small selection of simple, addicting snacks.  Tacos continue to be one of the most popular street foods in Hispanic cultures, but the taco concept (flavorful food in some sort of edible wrapper) really belongs to lots of cuisines, and Evol has some very cool taco mash-ups.
SeaPak Shrimp Spring Rolls – My fondest memories of going to Chinese restaurants as a kid with my parents were the appetizers, and we never skipped the spring rolls, with their light crackly wrappers and flavorful filling.  There were never enough.  Keeping an assortment of frozen egg rolls, spring rolls, dumplings and other frozen Chinese dishes makes for a great way to throw an impromptu dim sum party.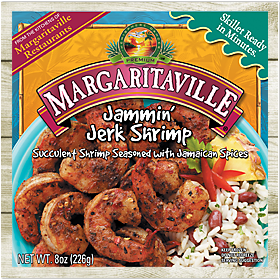 Margaritaville Jammin' Jerk Shrimp — I've never been to Jamaica, but it's on my bucket list. (I have an extremely long bucket list).  These shrimp have those jerk seasonings that make Jamaican food so fantastic.  If you can't go to the Islands, bring the Islands home to you.
There was a lot more at ACME, but I will definitely be back for another delicious trip around the globe.  My freezer is only so large, and we'll be back to continue our freezer expedition soon.