Taco Takeover for National Taco Day
What's not to love about tacos? Similar to America's version of the sandwich, tacos are a traditional Mexican dish composed of two main ingredients; tortillas and a protein or vegetable filling. Last year, over 4.5 billion tacos were consumed by Americans— that is 775 million pounds, the equal weight of two Empire State buildings[1]! Especially now, tacos are seen everywhere from food trucks to restaurants, but today is the day to rejoice… it's National Taco Day!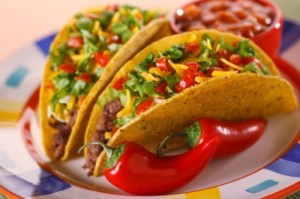 The greatest thing about tacos is versatility and their ability to be customized depending on recipe, taste profile and flavor palate. Consider all of the possibilities ranging from meat, seafood, vegetarian, beans, cheese and the varieties of toppings such as salsa, sour cream, avocado, cilantro and more! But, the one common thread between all varieties is the traditional outer wrapping of a tortilla— corn, flour or wheat. But, there are non-traditional options as well, like refrigerated pizza crust or a tortilla chip bowl. Even though tacos can transform into whatever you're craving, try these traditional versions:
Need some inspiration for National Taco Day celebrations? We've taken a stroll down the frozen and refrigerated aisles and thought of countless ways for you to get creative and spice up your taco fiesta! Here are some first-class recipe ideas that amp up your average taco: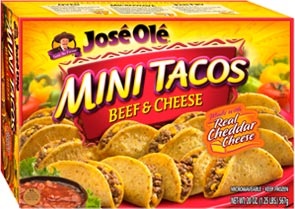 If you'd like to celebrate but are scrapped for time, José Olé Mini Beef & Cheese Mini Tacos are perfect for lunch, dinner or anytime snack!
How do you like your tacos— wrapped in a tortilla, layered in a dip, topped on a pizza or for breakfast, lunch or dinner? Either way, take advantage of National Taco Day and embrace the endless creative possibilities! Olé!