Super Snacks, Treats and Apps for the Big Game!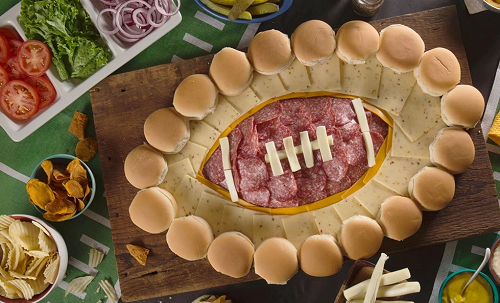 You're probably well aware that this Sunday marks the biggest game of the year. Not only is it the championship football game, it's also a huge day for grubbing. Did you know that the Super Bowl is the second largest day for food consumption behind Thanksgiving[1]? Whether you plan on attending a Big Game party or hosting one at your home, we have you covered with a drool-worthy, touchdown scoring menu!
Whether waiting for the coin-toss or taking a time-out during the game, impress party guests with this spread of snacks and appetizers:
The party ain't over 'til you serve these touchdown-worthy sweets and treats:

Need some more super easy ideas?
Now, before we get on with the Big Game party prep, we wanted to share some of these fun Super Bowl Sunday facts:
– The average person will consume 2,400 calories during the game[1].
– Fans spend more than $50 million on food in the four days prior to the Super Bowl[2].
– 10 million pounds of ribs and 12.5 million pounds of bacon is purchased during the week of the Super Bowl[3]
– According to the National Chicken Council, Americans eat approximately 1.23 billion chicken wings[3].
– According to the Snack Food Association, Americans eat an estimated: 11.2 million pounds of potato chips, 8.2 mil. pounds of tortilla chips, 3.8 mil. pounds of popcorn and 3 mil. pounds of nuts[3].
– 8 million pounds of guacamole is eaten on Super Bowl Sunday[4].
– About 1.5 million Americans will call in "sick" on Monday and another 4.4 million are expected to show up late for work[4].
With only a few days away, we can't help but be super stoked for Sunday! So we want to know: what's your favorite food to enjoy while watching the Super Bowl? What will you serve at your Big Game bash? Share with us in the comments below. 🙂
---
[1] http://www.chicagonow.com/chicago-eats/2016/02/super-bowl-50-fun-food-facts/
[2] http://www.popsugar.com/food/Super-Bowl-Fun-Facts-125068
[3] http://www.capecod.com/entertainment/super-bowl-food-fun-facts/
[4] http://www.thedailymeal.com/entertain/12-things-you-might-not-know-about-super-bowl