Summer Weeknight Dinner Solutions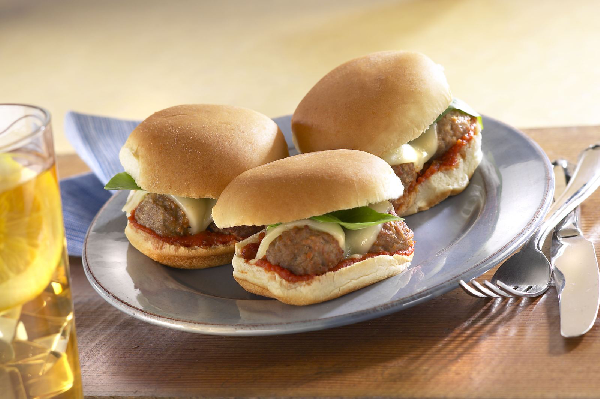 Summer is upon us! Amongst the many wonderful aspects of summer, the season often allows for the entire family to be more so on the same schedule than other times during the year. This means dinnertime can finally be a family affair! 
While it can sometimes feel as though the concept of family dinners is fleeting, in a recent consumer survey, 54 percent of respondents said their dinners usually take place at the kitchen table[1]. And that's great news because sitting down for a nightly meal with those you love is good for you brain, body and spirit[2].
Help make everyone excited for family dinners by getting creative with the meals. No need for stress in the kitchen or many prep hours – all you need are the right ingredients and products on hand for quick, delicious and family-pleasing dishes!
Looking for a quick and delicious weeknight meal? Stock the freezer with frozen meatballs and you'll always be able to make Italian Meatball Sliders that can be customized for each family member.
Make one night of the week pizza night! Barbecue Chicken Pizza is made simply with frozen chicken breast strips, your favorite BBQ sauce, onions and cheese.
After running around all day, the thought of chopping vegetables is not high on the list of priorities. Head to the frozen food aisle and choose from frozen varieties that can also include a rice pilaf to round out the plate. 
No one wants to prep and make mashed potatoes after a busy day. That's where refrigerated, already-made mashed potatoes come in! From garlic to sour cream & chive, these are made with real butter and fresh potatoes and are perfect as a side to any dinner.
How often do you sit down for dinner with your family?
[1]
The survey was conducted online with a random sample of 1007 men and women, 18+ —  all members of the Impulse Research proprietary online panel. The Impulse Research proprietary online panel has been carefully selected to closely match US population demographics and the respondents are representative of American men and women 18+. Research was conducted in August 2014.  The overall sampling error rate for this survey is +/-3% at the 95% rate of confidence
[2] http://www.washingtonpost.com/posteverything/wp/2015/01/12/the-most-important-thing-you-can-do-with-your-kids-eat-dinner-with-them/