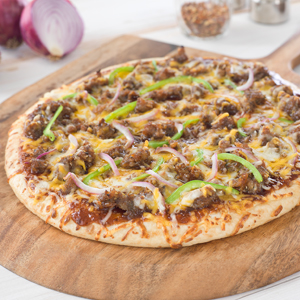 Recipe At A Glance
6 ingredients
Under 15 minutes
4 Servings
Spice up the traditional sausage pizza with Bob Evan's award-winning Wildfire Sauce on this Wildfire BBQ Sausage Pizza.
Sponsored By
Recipe Ingredients
3/4 cup Bob Evans Wildfire BBQ Sauce
1 12″ prepared pizza crust
1/2 cup thinly sliced green pepper
1/2 cup thinkly sliced red onion
2 cups shredded Colby-Monterey Jack cheese
Recipe Directions
Preheat oven to 450F.
In medium skillet over medium heat, crumble and brown sausage.
Stir in ¼ cup BBQ sauce.
Set aside.
Place pizza crust on baking sheet.
Spread remaining ½ cup BBQ sauce over crust.
Top with sausage, peppers, onion and cheese.
Bake for 8 to 10 minutes or until cheese is melted and browned.