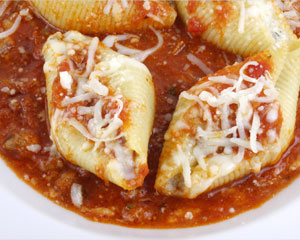 Recipe At A Glance
8 ingredients
15-30 minutes
7 Servings
Impress your guests with these lovely and easy-to-make stuffed shells!
Recipe Ingredients
20 jumbo pasta shells (about half of a 12-oz. box)
1 jar (25 to 28-oz.) marinara sauce
1 container (15-oz.) Frigo® Whole Milk or Part-Skim Ricotta cheese
2 cups (8-oz.) shredded Frigo® Mozzarella cheese, divided
1 cup (4-oz.) finely shredded Frigo® Parmesan cheese, divided
1 egg, beaten
1 Tbsp. finely chopped parsley
1/4 tsp. Italian seasoning blend
Recipe Directions
Preheat oven to 375°F. Cook pasta according to package directions; rinse and drain.
Coat the bottom of an 11" x 7" baking dish or 3-quart casserole dish with about 1/3 the marinara sauce.
Combine Frigo® Ricotta cheese, half the Frigo® Mozzarella and Parmesan cheeses, the egg, parsley, and Italian seasoning; stir well. Spoon filling into cooked shells. Place shells in baking dish.
Pour remaining sauce over shells; sprinkle with remaining Frigo® Mozzarella and Parmesan cheeses.
Cover with foil and bake 25 minutes or until bubbly.
Other Recipes You Might Like