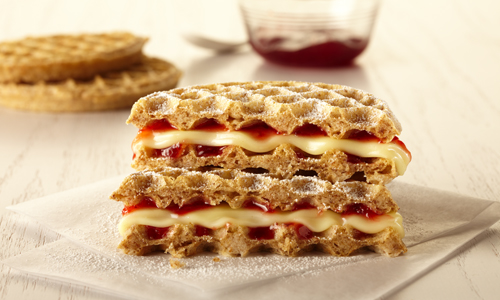 Recipe At A Glance
0 ingredients
15-30 minutes
4 Servings
Sweet & savory combine for an unforgettable breakfast sandwich.
©2014 Land O'Lakes, Inc.
Sponsored By
Recipe Ingredients
8 (4-inch) frozen whole grain waffles
1/2 cup strawberry jam
8 (3/4-oz.) slices Land O Lakes® Deli American
Powdered sugar, if desired
Recipe Directions
Heat oven to 400°F. Place waffles onto ungreased baking sheet. Bake 5-7 minutes or until crisp and golden brown. Remove from oven; spread 1 tablespoon jam onto each waffle. Top each with 1 slice cheese.
Bake 4-5 minutes or until cheese is melted. Press 2 waffles, cheese-sides together, for each sandwich.
Cut each sandwich in half; sprinkle with powdered sugar, if desired.
Other Recipes You Might Like