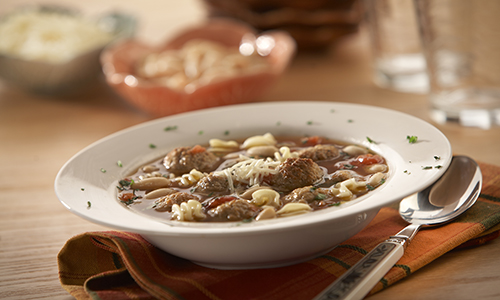 Recipe At A Glance
6 ingredients
15-30 minutes
5 Servings
A hearty, flavorful meal to come home to on a chilly fall day!
Sponsored By
Recipe Ingredients
1 Bag (16oz.) Rosina Homestyle or Traditional Italian Meatballs, Thawed
1 ¾ cups Beef Broth
1 cup water
1 can Diced tomatoes with basil, garlic, and oregano seasonings, un-drained
1 can Cannellini Beans, Drained
1/3 cup shredded Parmesan Cheese
Recipe Directions
In a 3 to 4 quart slow cooker, mix all ingredients together except for the Parmesan cheese.
Cover; slow cooker on set on low heat setting and cook for 8 to 10 hours stirring occasionally.
Spoon Soup into bowls 5 servings (1 ½ cups each), Garnish with the Shredded Parmesan Cheese.