Pierogy Primavera with Roasted Vegetables and Chicken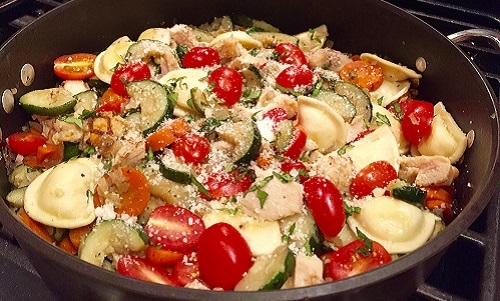 Recipe At A Glance
11 ingredients
15-30 minutes
4 Servings
Simply colorful and delicious!
Sponsored By
Recipe Ingredients
4 Tyson Grilled and Ready® Chicken Breast Filets, prepared according to package directions and cut into 1 inch pieces
2 12 oz. packages Green Giant™ Fire Roasted Vegetables
1 16 oz. box Mrs. T's Mini Four Cheese Medley Pierogies
¼ c. olive oil, divided
1 small onion, diced
2 cloves garlic, chopped
¾ c. chicken broth
½ 10 oz. container cherry tomatoes, halved
¼ c. fresh grated Parmesan cheese
2 tbsp.fresh chopped basil
Salt and pepper to taste

Recipe Directions
Heat 2 tbsp. of olive oil in large skillet over medium heat. Add pierogies and cook 8 minutes or until golden brown, turning occasionally. Remove from skillet.
In same skillet, heat remaining 2 tbsp. of olive oil over medium heat. Add garlic and onions and cook 2 minutes or until garlic is lightly browned. Add roasted vegetables and cook 4 minutes.
Stir in chicken broth and bring to boil. Add chicken and tomatoes and simmer 4 minutes. Stir in pierogies and heat through.
Top with Parmesan cheese and fresh basil.