Grilled Chicken Caesar Salad Pizza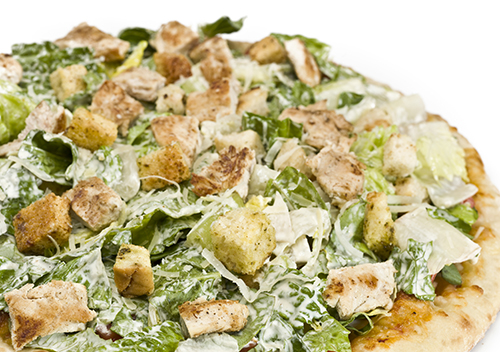 Recipe At A Glance
10 ingredients
Over 30 minutes
4 Servings
Settle the debate between pizza or salad with this fun spin on grilled pizza!
Sponsored By
Recipe Ingredients
olive oil
1 refrigerated pizza crust
1 Tbsp. minced garlic
1/2 cup shredded parmesan cheese, divided
3/4 cup shredded mozzarella cheese
1/2 cup Caesar salad dressing
1 8-oz. pkg. cream cheese
2 cups grilled & ready fully cooked frozen grilled chicken breast strips, thawed
4 cup thinly sliced romaine lettuce
croutons (optional)
Recipe Directions
With your grill set to medium heat, brush olive oil on one side of unrolled pizza crust, and place crust oil-side-down on the grill. Cook with the cover up until the bottom of the crust has nice grill marks on it and it is stiff enough to be flipped. Brush more olive oil on the top of the crust and flip it over.
In a small bowl, combine 1/4 of parmesan cheese, 1/2 mozzarella cheese, dressing & garlic; mix well. Combine cream cheese and 1/2 of the dressing mixture; mix well. Combine chicken with cream cheese/dressing mixture.
Spread cream cheese/dressing mixture on top of grilled pizza crust. Close cover and cook until cheese is completely melted.
Place cooked pizza on a large cutting board or cookie sheet and allow to cool slightly. Combine lettuce with remaining dressing mixture. Top pizza with salad mixture; sprinkle with remaining parmesan and mozzarella cheese and croutons (optional).