Gnocchi with Edamame and Vegetables recipe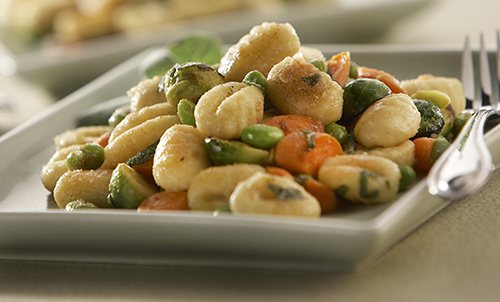 Recipe At A Glance
0 ingredients
Over 30 minutes
6 Servings
Super easy to make and healthy!
Sponsored By
Recipe Ingredients
1 pkg. Italian Village Gnocchi
1 pkg. frozen sliced or diced carrots, thawed
1 pkg. frozen brussel sprouts, blanched, drained, and halved
1 pkg. frozen shelled edamame soybeans, blanched, drained
1/2 stick butter
2 tbsp. olive oil
1/2 tsp. salt
1/2 tsp. black pepper
3 tbsp. shredded fresh sage
Recipe Directions
Prepare gnocchi according to the package directions. In a large frying pan on medium-high heat add butter and the sage; sauté until fragrant, about 3 minutes. Add the gnocchi and the halved brussel sprouts; sauté until golden brown, approximately 15 minutes. Add carrots and the edamame to the gnocchi and brussel sprouts. Gently stir to mix, cover, and cook for 10 minutes, or until heated through. Then serve.
Other Recipes You Might Like