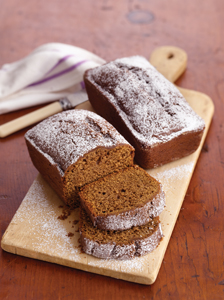 Recipe At A Glance
14 ingredients
Over 30 minutes
8+ Servings
Gingerbread fills your house with the wonderful aroma of spices. It is easy to double this recipe for a festival or bake sale.
Sponsored By
Recipe Ingredients
1 1/4 cups all-purpose flour
1/2 teaspoon ground cinnamon
1/4 teaspoon ground allspice
1/4 teaspoon ground cloves
1/4 teaspoon ground nutmeg
1/4 teaspoon baking soda
1/4 teaspoon salt
1/2 cup mild molasses
1/3 cup milk
1/3 cup sugar
1/4 cup Land O Lakes® Butter, melted
1 tablespoon ginger puree or grated fresh gingerroot
1 Land O Lakes® Egg
Powdered sugar, if desired
Recipe Directions
Heat oven to 350°F. Grease and flour 2 mini (5 3/4×3-inch) loaf pans.
Combine flour, cinnamon, allspice, cloves, nutmeg, baking soda and salt in bowl.
Combine molasses, milk, 1/3 cup sugar, butter, ginger and egg in bowl; beat until well mixed. Add flour mixture; beat at low speed, scraping bowl occasionally, until well mixed.
Pour batter into prepared pans. Bake 28-33 minutes or until toothpick inserted into center comes out clean. Cool 10 minutes; remove from pans. Cool completely. ,
Sprinkle with powdered sugar before slicing, if desired.
Recipe Tips:
– The gingerbread can be baked in 1 (9×5-inch) loaf pan. Bake at 350°F. 30-35 minutes. For 4 miniature (4 1/2×2 1/2×1 1/2-inch) loaf pans, bake at 350°F. 25-30 minutes.
– Grate peeled, fresh gingerroot on the fine side of a box grater or on a Microplane® grater, leaving behind most of the fibers.