Chocolate Chip Banana Bundt Cake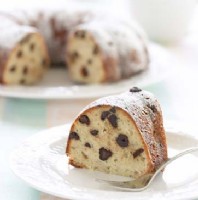 Recipe At A Glance
12 ingredients
Over 30 minutes
8+ Servings
Chocolate Chip Banana Bundt Cake is NestFresh's favorite dessert recipe!
Sponsored By

Recipe Ingredients
1 cup (250 mL) butter, softened
1 cup (250 mL) sugar
3 large NestFresh Eggs
2 teaspoons (10mL) vanilla
1 cup (250 mL) mashed bananas
2 cup (250 mL) all-purpose flour
1 teaspoon (5 mL) baking powder
1/4 teaspoon (1 mL) baking soda
1/4 cup (60 mL) buttermilk
1 cup (250 mL) chocolate chips
1 teaspoon (5 mL)flour
icing sugar
Recipe Directions
Preheat oven to 350°F (175°C).
Prepare a bundt pan by spraying with cooking spray and coating with flour.
Add butter and sugar to mixer and beat until creamy.
Add eggs one at a time, beating after each addition.
Add vanilla. Add bananas and mix well.
Add flour, baking powder and baking soda, blend.
Add buttermilk, mix until smooth.
Toss chocolate chips with 1 teaspoon (5mL) flour and coat well. Fold chocolate chips into batter.
Using a spatula, scrape batter into prepared bundt pan.
Place into preheated oven and bake for 45-50 minutes or until a cake tester comes out clean.
Cool in pan for about 10 minutes. Unmold on cake plate and dust with icing sugar.