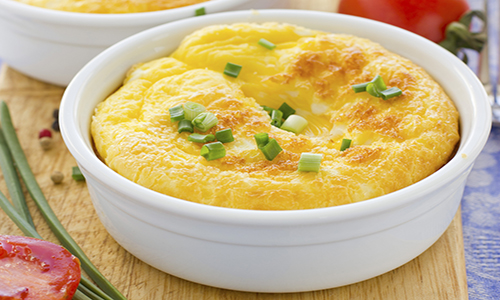 Recipe At A Glance
8 ingredients
Over 30 minutes
8+ Servings
Treat your brunch guests right with our tasty and egg-zellent recipe for Cheesy Eggs!
Sponsored By
Recipe Ingredients
3 cups grated sharp cheddar cheese
10 slices white bread, slightly buttered (crusts off)
4 eggs
2 cups milk
1 tsp. salt
1 tsp. dry mustard
dash of Worcestershire sauce
Tbsp. minced dry onions
Recipe Directions
Flake bread with two forks, butter casserole; layer accordingly-3 layers of bread & cheese. Sprinkle dry minced onions over last layers. End with cheese.
In mixer or blender, beat well: milk eggs, dry mustard, salt, Worcestershire sauce. Slowly pour mixture over layers.
Place in refrigerator for 10 or more hours (covered)
Preheat oven to 325F. Bake for 1 hour, longer if recipe has been doubled or tripled.
Sprinkle with paprika before baking. Top with chopped fresh spring onion if desired.