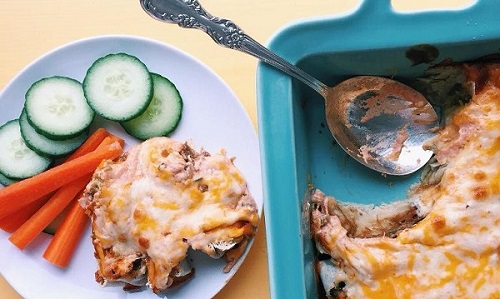 Recipe At A Glance
6 ingredients
Over 30 minutes
6 Servings
If you like burritos and enchiladas, you'll love Katie Workman's easy-to-make- "hack" Burrito Enchilada Casserole.
Recipe Ingredients
6 (5-oz.) frozen El Monterey Shredded Steak and Three-Cheese Burritos
2/3 cup enchilada sauce
¼ cup sour cream, plus more to serve, (optional)
1 jalapeno pepper, seeded and finely minced
1 cup shredded Mexican cheese blend
Salsa to serve (optional)
Recipe Directions
Defrost the burritos in the refrigerator overnight.
Preheat the oven to 350°F.

Cut the burritos in half lengthwise (cut them down the wider side), and place them filling side up in an 8×10-inch casserole dish (or one big enough to hold all 8 of the burrito halves). In a small bowl blend together the enchilada sauce, ½ cup sour cream, and jalapenos. Spread the mixture evenly over the tops of the burritos. Sprinkle with the shredded cheese.

Bake for about 30 minutes, until the cheese is melted and golden, and the burritos are heated through. Serve with salsa and additional sour cream, if desired.
Cooking Tips:
Try some of the other El Monterey Burrito Varieties, such as Southwest Chipotle Chicken Burritos, Chicken & Monterey Jack Cheese Burritos or Jalapeno, Bean & Three Cheese Burritos . Or make two flavors in two separate pans for a big gathering, and let people chose.
You can layer the casserole in the morning, by covering it and tucking it into the fridge. Bring it to room temperature while you are pre-heating the oven. Bake just before serving.
El Monterey Chimichangas can also be used in place of the burritos: try Beef, Bean & Cheese Flavor Chimichangas or Spicy Jalapeno, Bean & Cheese Chimichangasa
You can double this recipe and bake it in a large baking dish.