Avocado Cream Cheese Snack Roll-Ups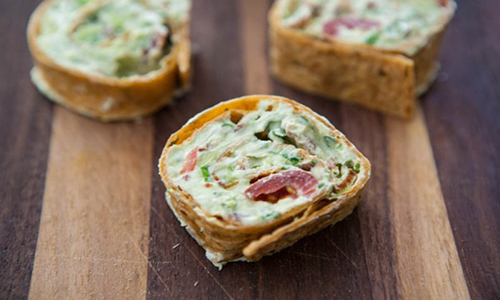 Recipe At A Glance
9 ingredients
Under 15 minutes
8+ Servings
Our Cool Food Panelist, Angie McGowan from Eclectic Recipes wanted to share a quick and scrumptious appetizer/snack starring avocado and cream cheese–Avocado Cream Cheese Snack Roll-Ups!
Recipe Ingredients
1 8-oz. brick cream cheese, at room temperature
1 hass avocado
1/4 chopped green onion
6 slices bacon, cooked crisp and chopped
1/2 diced tomato
1/4 cup roughly chopped fresh cilantro
1/2 tsp. cumin
2 tsp. lime juice
2 large tortillas
Recipe Directions
In a large bowl, combine cream cheese, avocado, green onion, bacon, cilantro, cumin and lime juice. Mix well to combine.
Spread mixture evenly over two large tortillas and roll up. Cut in slices and place on plate. Refrigerate until ready to serve.