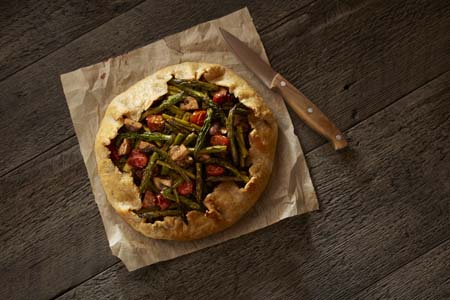 Recipe At A Glance
16 ingredients
Over 30 minutes
6 Servings
A galette is a freeform flat pastry crust – like a pie. We've filled this one with mushrooms, cherry tomatoes, bacon and asparagus. Perfect as as appetizer or light dinner meal.
Sponsored By
Recipe Ingredients
Pastry Crust
1 cup all-purpose flour
1/4 teaspoon salt
1/8 teaspoon ground red pepper (cayenne)
1/4 cup cold Land O Lakes® European Style Butter, cut into chunks
2 ounces (1/4 cup) cold cream cheese, cut into chunks
1 teaspoon apple cider vinegar
1 to 2 tablespoons ice water
Filling
6 slices bacon, chopped into large pieces
1/2 pound asparagus, ends trimmed, cut into 2-inch pieces
1/2 cup quartered baby bella mushrooms
1/2 cup halved cherry tomatoes
2 tablespoons balsamic vinegar
1/3 cup crumbled goat cheese
1/3 cup shredded Gruyere cheese
Egg Wash
1 large Land O Lakes® Egg, beaten
Crumbled goat cheese, as desired
Recipe Directions
Combine flour, salt, ground red pepper in bowl. Cut in butter and cream cheese with pastry blender or fork until mixture resembles coarse crumbs. Stir in water and vinegar with fork just until flour is moistened. Shape dough into ball. Flatten slightly. Wrap in plastic food wrap; refrigerate 30 minutes.
Cook bacon in 12-inch skillet over medium-high heat until crisply cooked. Remove from pan; drain on paper towel. Reserve 1 tablespoon bacon grease in pan. Return pan to heat; add asparagus and mushrooms. Cook 3 minutes, or until asparagus is crisply tender. Add tomatoes and balsamic vinegar. Cook 2-3 minutes until liquid is almost gone. Remove from heat; set aside.
Heat oven to 425°F. Line baking sheet with parchment paper.​
Roll out dough on prepared baking sheet into 12-inch circle (edges can be ragged). Sprinkle dough with 1/3 cup goat cheese, leaving 2-inch border around edge. Sprinkle bacon and Gruyere cheese on top of goat cheese. Spoon vegetable mixture on top. Fold edge over filling, leaving middle uncovered. Brush edge of crust with egg wash.
Bake 18-22 minutes until crust is golden brown. Remove from oven; let cool on pan 5 minutes before serving. Sprinkle with additional goat cheese, as desired.