The Real Story Behind Stouffer's Lasagna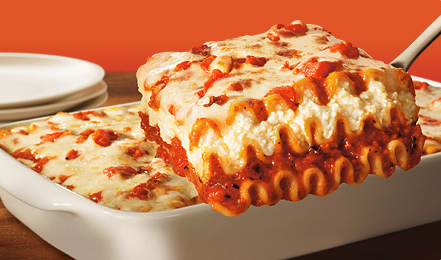 Do you ever wonder what really goes into that famous red box of lasagna? Recently, we took a trip with Howard from the Mr. Food Test Kitchen to visit Nestlé headquarters, the makers of brands like Stouffer's and Lean Cuisine. Wow! The state-of-the-art Nestlé Test Kitchen was amazing!
Head Chef Lucien Vendóme showed us around the kitchen and talked about how Nestlé makes great tasting foods with real ingredients and then freezes their meals so they stay fresh until you're ready to use it.
Watch the video for a behind-the-scenes look at how the pasta and the sauce are made from scratch in huge batches in what Nestlé calls their "Big Kitchens." In the Big Kitchens every meal is put together by hand by real people. Someone lays in the noodles and even tucks in the edges so you don't get any burnt pieces!
Steve Warner, Head of North American Procurement, says they work directly with the farmers to make sure they're meals are made with only top quality ingredients. Tons of fresh, ripe tomatoes go into making the yummiest marinara sauce that's topped with fresh, real cheese.
Nestlé employs some of the top chefs in the country who are always watching the latest trends and bringing those creative flavors to you. Head Nutritionist Chavanne Hanson, a registered dietitian and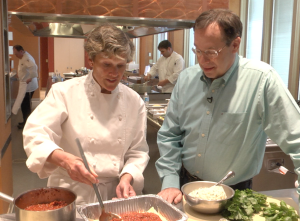 nutrition expert, makes sure every new creation is nutritious as well as delicious. Nestlé makes great food and then freezes it, just like you would at home (if you had the time!)
In fact, the company had its beginnings in 1922 when Abraham and Mahala Stouffer opened a small coffee shop in Cleveland, Ohio. The coffee shop became a chain of restaurants and the most popular items were frozen and sold at an adjacent retail store. Read more of the history of how Stouffer's went from a family restaurant to a leading name in the frozen food business.
Today, the same love and care goes into every Stouffer's meal. After seeing the Nestlé Kitchen and talking with the chefs, it's clear that frozen food is simply real food…frozen! Stay tuned for more video highlights of our time at the Test Kitchen!