Protein, the "Power" Nutrient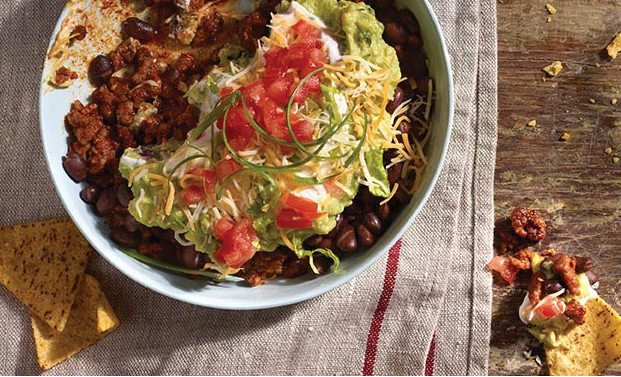 No matter if you're young, old or somewhere in-between; eating enough protein plays an important role in good health at every age and life stage. All parts of your body rely on protein to function – whether it's building muscle, fueling physical activity, repairing body tissues, or regulating the body's processes like muscle contraction.
With all the work that protein does to keep your body running smoothly, you may be wondering how much of this "power" nutrient you should be eating each day. According to current recommendations (1), the amount of protein you need depends on:
Whether you're male or female
Your age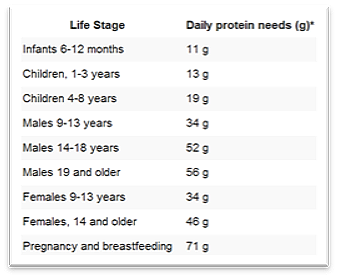 * Recommended Dietary Allowances are estimates based on recommended grams per kilogram of body weight Source: Institute of Medicine. Dietary Reference Intakes for Energy, Carbohydrate, Fiber, Fat, Fatty Acids, Cholesterol, Protein and Amino Acids (2002/2005).
Pregnancy
During pregnancy, protein needs are at their highest, because it's both Mom and her baby-to-be that need protein.
Childhood and Adolescence
As baby transitions into childhood and adolescence, protein plays a similarly critical role in physical and mental growth and development. In fact, during these life stages, when you calculate protein needs on a per-pound-of-body-weight basis, a child's protein needs are actually higher than those of an adult. That's not surprising when you think about how much bodies change during the period from infancy to early adulthood. Growth needs alone are staggering, but protein is also needed for nearly every body function, including production of hormones, building muscle, collagen and body tissues, and healthy brain and immune system development.
Adulthood
After all the growing and developing your body does, you may think that you don't need as much protein as an adult as you did when you were younger. Surprisingly, the total amount of protein you require is greatest when you're an adult (only during pregnancy and breastfeeding are needs higher). And they stay at their peak for the rest of your life.
Loss of lean muscle mass can start as early as age 30. How much depends partly on your lifestyle. Eating enough protein is essential, as well as regularly exercising (particularly strength training) to help you minimize the loss of lean muscle mass. However, if you aren't active, you may lose between three and eight percent of lean muscle mass each passing decade; you'll lose less if you're physically active (2). That may not sound like much, but over the years, the loss adds up and it can impact your quality of life when you're older.
There is some question as to whether current protein recommendations are adequate for older adults. Emerging research studies suggest that higher protein amounts (in the range of 0.5 to 0.7 grams per pound of body weight) may be beneficial in helping to counteract the effects of lean muscle mass loss. (3)
Athletes
Most recreational athletes need about 0.5 grams of protein per pound of body weight (an average person's needs are 0.4 grams of protein per pound of body weight) (4). If you're a competitive or endurance athlete, such as a marathon runner or cyclist, your needs are a bit higher, about 0.6 to 0.7 grams of protein per pound. Protein helps keep muscles strong, may help repair the small amount of muscle damage that can result from training, and helps support the building of new muscle.
Focus on Quality
It's not only the amount of protein that matters – the quality of the protein that you eat is just as important. High quality protein foods – such as pork, beef, poultry, fish, eggs, cheese, milk and yogurt – provide your body with the complete protein it needs to keep you healthy. While plant foods like beans, grains, nuts and seeds contain protein, it's not the same quality as the protein found in foods from animal sources (exceptions among plant foods are soy and quinoa). You can mix plant foods in combinations in order to make a complete protein, but it takes a little know-how. And without complete proteins, your body can't do all the jobs that it needs to do for your good health.
So add some high quality protein "power" to your day with Jimmy Dean breakfast product or sandwich! Here are a few delicious suggestions, wherever you are in life!

Kids will love this fun sausage and egg cup for breakfast. Nutrition Information*: Calories 250, Total Fat 15g, Saturated Fat 8g, Sodium 550mg, Protein 16g, Calcium 25% DV.
Teens on the run will appreciate Jimmy Dean Delights® Flatbread Sandwiches or Breakfast Bowls –ready to eat in minutes!
Adults will savor this – 4 ingredient turkey chili is perfect for lunch or a quick dinner. Nutrition Information: Calories 210, Total Fat 6g, Saturated Fat 1.5g Sodium 1,550mg, Protein 19g, Vitamin C 15% DV.
Athletes looking for a breakfast on the run will find this sausage and egg burrito offers a winning combination of speed, taste and nutrition. Nutrition Information: Calories 310, Total Fat 9g, Saturated Fat 3g, Sodium 1,090mg, Protein 23g, Fiber 4g.
*Recipes analyzed using The Food Processor® Nutrition Analysis Software from ESHA Research, Salem, OR. Garnishes and optional ingredients are not included in analyses.
Products:
Sausage and Egg Cup
Delights Flatbread Sandwiches
Breakfast Bowls
Sausage and Egg Burrito
Featured Recipe: Layered Taco Dip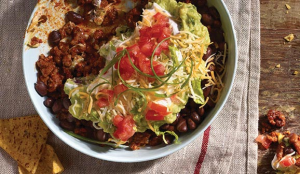 Prep Time: 20 minutes
Cook Time: 15 minutes
Ingredients
12 Jimmy Dean® Fully Cooked Original Pork Sausage Patties (½ of 30-ounce pkg.), coarsely chopped
1 pkg. (1.25 oz.) taco seasoning mix
¾ cup water
1 can (15 oz.) black beans, drained, rinsed
1 cup guacamole (optional)
1 cup sour cream
¼ cup salsa
6 green onions, chopped
2 cups finely shredded lettuce
1 cup (4 oz.) shredded Mexican cheese blend
1 tomato, seeded, chopped
Tortilla chips for serving
Additional salsa (optional)
Directions
Mix sausage, seasoning mix and water in large nonstick skillet. Bring to boil on MEDIUM heat. Reduce heat to MEDIUM-LOW; simmer 10 minutes, stirring occasionally. Cool 10 minutes.
Spread sausage mixture onto bottom of 9-inch pie plate; cover with beans. Top with guacamole, if desired.
Mix sour cream and salsa until well blended; spread over guacamole. Top with onions, lettuce, cheese and tomato. Serve with chips and additional salsa, if desired.
Cook's Tips:
Substitute 1 pkg. Jimmy Dean® Hearty Original Sausage Crumbles for the chopped sausage patties.
Yield
8 cups or 64 servings (2 tablespoons each)
About The Jimmy Dean Brand
The Jimmy Dean brand is America's favorite protein breakfast brand*. Since 1969, the brand has ensured quality in every plate, providing warm, satisfying breakfast options the whole family can enjoy. Jimmy Dean Fresh Roll Breakfast Sausage, Fresh Links & Patties, Fully Cooked Sausage Links & Patties, Omelets, Skillets, Sandwiches, Breakfast Bowls, Heat 'N Serve Sausage Links & Patties, and Pancakes & Sausage on a Stick boast full flavors and top quality ingredients guaranteed to make any meal the best. The Jimmy Dean brand is also a proud partner of Share Our Strength's No Kid Hungry® campaign, a national nonprofit working to put an end to childhood hunger in America. For more information, visit us at jimmydean.com.
About The Hillshire Brands Company
The Hillshire Brands Company (NYSE: HSH) is a leader in focused food solutions for the retail and foodservice markets. The company generated approximately $4 billion in annual sales in fiscal 2013. The company's more than 9,000 employees work together every day toward a common purpose – fulfilling the hunger for a life well fed. Hillshire Brands' portfolio includes iconic brands such as Jimmy Dean, Ball Park, Hillshire Farm, State Fair, Sara Lee frozen bakery and Chef Pierre pies, as well as artisanal brands Aidells, Gallo Salame and Golden Island premium jerky. For more information on the company, please visit hillshirebrands.com.
Jimmy Dean is a member of the National Frozen and Refrigerated Food Association, and this post originally appeared on the Jimmy Dean website.