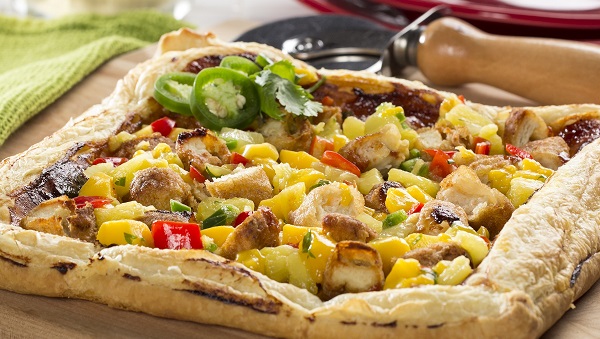 What's one product that can ultimately save the day when in a cooking rut or a time crunch? Puff pastry! It's extremely versatile, perfect for both sweet and savory dishes, and it's one of the most convenient pre-made products out there. Puff pastry from scratch is notorious for being frustratingly time-consuming to make, but there's absolutely no fuss needed when you can purchase it already perfectly prepared and ready-to-go in the freezer aisle.
The possibilities are endless, but we've included our top puff pastry uses-of-the-moment below to inspire your next puff pastry pursuits. Here are six creative ways to utilize this kitchen favorite[1]: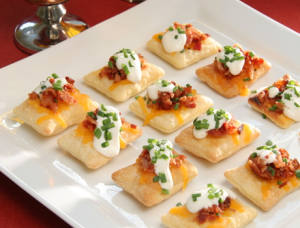 CRISP GARNISH: Use a cookie cutter to make shapes in the sheet, and crisp 'em up in the oven.
QUICK AND IMPRESSIVE BREAKFAST: Make elegant turnovers using puff pastry sheets, filling with fruit and cottage cheese and baking until golden brown.
EASY AND DELICIOUS DINNER: Make this flavorful dinner in under 30 minutes.
GORGEOUS FRENCH PASTRY WITH A KICK: Wow guests with Palmiers, a classic pastry that looks and tastes like it's straight from the bakery. This one has some sriracha zing!
PERFECT HORS D'OEUVRES: Grab three ingredients—puff pastry, olive oil and cheese—to make the easiest and most delicious cheese straws.
EDIBLE BASKET: Puff pastry baskets are bite-sized and hold up to just about any filling.
Not yet a puff pastry expert? Check out Pepperidge Farm's how-to videos that demo how to use everything from pastry shells to tartlets and give tricks for stuffing, rolling and wrapping with puff pastry. Here are a few helpful hints to send you on your way[2]:
Puff Pastry can be stored in the freezer in the original packaging for up to 6 months.
If you don't have a pastry brush, you can use the tip of a rolled-up paper towel or your fingertip to apply egg wash.
Puff Pastry can puff up to 8 times its original thickness. That means even a sheet rolled to a thin ¼-inch thickness will rise 2 inches.
Next time you're at the grocery, make sure to stock up on frozen puff pastry!
---
[1] http://food-hacks.wonderhowto.com/how-to/love-puff-pastry-here-s-why-you-should-too-0166355/
[2] http://www.puffpastry.com/tips-and-techniques#