Potato, Patata – However You Dice 'em, They're Delicious!
When you're looking for versatile and convenient food items, potatoes are at the top of our list. Whether it's the frozen, diced variety or refrigerated hash browns, the year-round quality and freshness of these products is unbeatable! Better yet, with frozen and refrigerated options, you'll never have to peel, chop, dice or slice a potato ever again. Plus, you don't even need to remember to thaw them ahead of time because they can go straight from the bag to a skillet.
Potatoes come in all sorts of varieties, and they all have great nutritional value. The average American eats 142 pounds of potatoes a year! That is almost 365 potatoes per person or an average of one a day! America produces over 30 billion pounds of this crop every year, and potatoes are one of the few crops that are grown in every single state, the whole way from Florida to Alaska[1]!
Here are our top five ways to transform potatoes into culinary masterpieces, without the added stress of cooking!
1) Throw 'em on the grill: Frozen potatoes are flavorful when baked in the oven, but even more so when finished on the grill.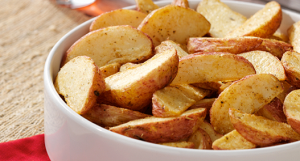 2) Heat up your waffle iron or Panini maker: Crisp up refrigerated hash browns by placing them into a buttered waffle iron or Panini maker for 10-15 minutes.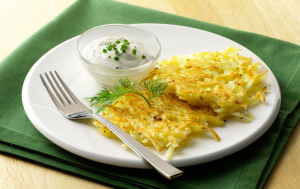 3) Transform tots into "totchos": Reinvent the classic tater tot by turning them into nachos— so easy with frozen tater tots.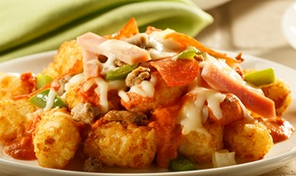 4) Create homemade appetizers: When you're in need for a quick but impressive party appetizer, take a few shortcuts by using frozen potatoes to make your own delicious poppers.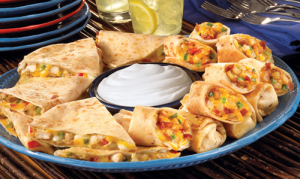 5) Bake in a mini muffin tin: Adorable meets delicious meets portable when you cook refrigerated hash browns in a mini muffin tin.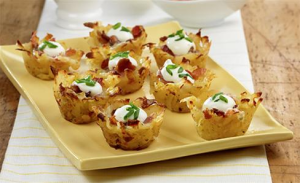 Check out these five other ways to repurpose those potatoes (specifically frozen varieties) from our friends at The Kitchn. All you have to do is pull them straight from the freezer, as they're already cooked and prepped— then, customize and make your own!
Do you have a bag of potatoes in your fridge or freezer right now? Let us know how you enjoy cooking and eating them!
[1] http://www.ncagr.gov/markets/commodit/horticul/potatoes/facts.htm