Pile It On for Pizza Night!
Weekly food themes are all the rage, with Meatless Monday, Taco Tuesday, Wine Wednesday and many more. But just because no day of the week begins with "p" doesn't mean that a dedicated Pizza Night is wrong—in fact, it's very right! Even better, ditch delivery, and make it a fun activity for the entire family.
Both frozen and refrigerated dough make Pizza Night the best night of the week because half the prep is already done for you. Simply grab a roll of dough/crust out of the fridge or freezer, and start to assemble with your favorite toppings. From there, feel free to experiment with flavors, and use ingredients you already have on hand. Check out these conveniently made, pizzeria-inspired, fool-proof recipes to try at your next Pizza Night: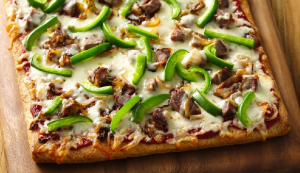 Frozen pizzas are the essential freezer item because they are heat-and-eat meals, easily customizable and conveniently portioned for single servings or families. If you haven't browsed the freezer aisle in a while, now is the time. Here are some of our favorite frozen pizza options:

For your next Pizza Night, what types of products and ingredients will you explore? Share with us your favorite frozen pizzas and recipes in the comments below!